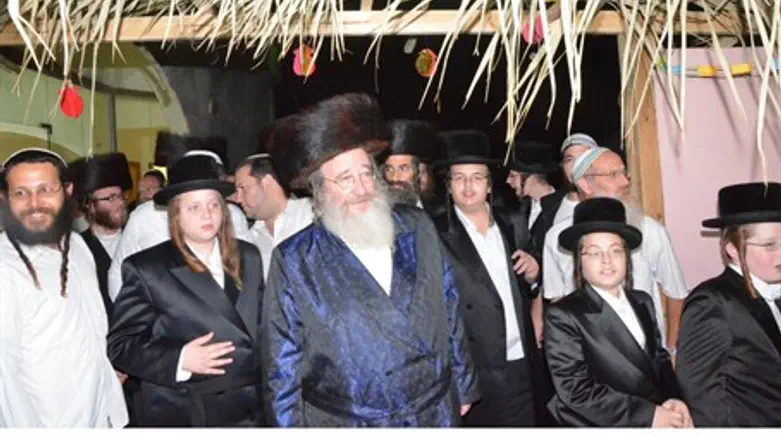 The Spinka Rebbe at Joseph's Tomb
Meir Bricha, Shomron Regional Council
The Rebbe of Spinka, Rabbi Naftali Tzvi Weisz, heading the largest Hassidic dynasty of that name, visited the Tomb of the Biblical Joseph Wednesday night, just one month after a visit to the Tomb and the Shomron (Samaria) Jewish community of Elon Moreh by the Admor of Vizhnitz. (Ed note: The video clip is in Hebrew.)
More than 2,000 men streamed into the Tomb from across the country for the occasion to celebrate the "Ushpizin of Joseph" during the intermediate days of the Sukkot holiday. The event took place with the authorization and escort of the IDF, officials from the Shomron Regional Council and the organization, "One Shechem."
Residents of the Jewish community of Yitzhar and IDF soldiers gathered to greet the rabbinic Sage upon his arrival which preceded a brief tour of the nearby Gilad Farm community. The Rebbe was also hosted at the personal sukkah of the Yitzhar chief rabbi and head of the Yitzhar community kollel, Rabbi David Dudkevitch.
Participating in the celebration were numerous rabbis, kabbalists and Jewish community officials. Among them were Shomron Chief Rabbi Elyakim Levanon, Rabbi Dudkevitch, Shomron Regional Council head Gershon Mesika, and Modi'in Chief Rabbi David Lau.
Organizers built in the courtyard of the tomb a large sukkah wherein refreshments were served to the multitudes of both Orthodox and secular Jews who participated in the joyous occasion.
"The real test of knowing whether something is related to holiness is by the resistance that arises," said the Rebbe. "If there is resistance," he said with clear affection towards the settlers gathered around him, "it is a sure sign that you are traveling on the path of kedusha, of holiness."
Following prayers, Mesika offered special thanks for the security services to the IDF Samaria Brigade Commander Col. Yoav Yarom, ADS officer Maj. Elitzur Trabelsi, Shechem district commander Lt.-Col. Coby Gratzwolf, and Shomron (Samaria) Regional Commander Coby Shabtai.