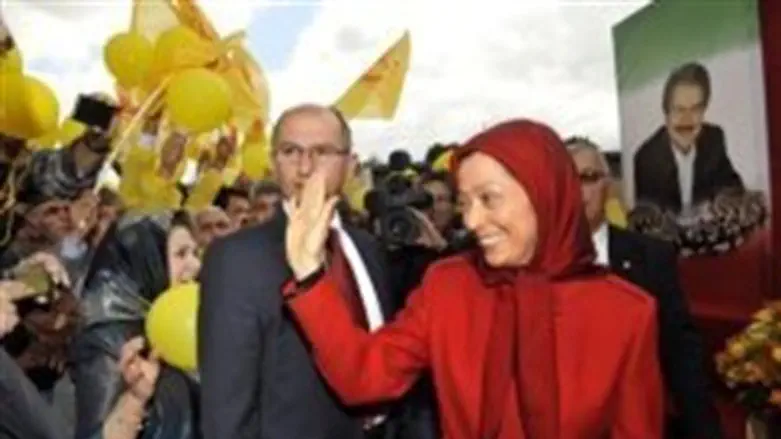 MEK President Maryam Radjavi
AFP/Mehdi Fedouach
Iran slammed the United States on Saturday for removing an exiled Iranian opposition group from its blacklist of designated terror groups, accusing Washington of "double standards" in dealing with terrorism, according to state media.
The delisting of the People's Mujahedeen of Iran, or Mujahedeen-e-Khalq (MEK), was announced on Friday, ending a complex legal battle fought through U.S. and European courts.
The group invested much money and years of intense lobbying to be taken off the list.
The move paved the way for the MEK, whose leadership is based in Paris, to legally access any assets it has in the United States and to conduct business with Americans freely.
Iran's foreign ministry, in a statement reported by the ISNA news agency, said the move proved the U.S. government "applies double standards when it comes to terrorism."
"Iran strongly condemns the irresponsible action of the U.S. government... which is now responsible and should answer for all of the terror acts the (MEK) has done and will do in the past, present and future," said the statement, according to AFP.
The group was founded in the 1960s to oppose the shah of Iran. After the 1979 Islamic revolution that ousted the shah it took up arms against Iran's clerical rulers.
The MEK says it has now laid down its arms and is working to overthrow the Islamic regime in Tehran through peaceful means.
Iran, however, is holding the group responsible for murdering thousands of Iranian civilians and officials as well as becoming mercenaries for the former Iraqi regime of Saddam Hussein, the foreign ministry said.
With the removal of the MEK off the terrorist list, the ministry added, "The U.S. government proved that none of its actions correspond to logic ... as it is now officially and practically supporting all of the MEK's crimes and terror acts against Iranian, Iraqi and even U.S. citizens."
On Wednesday, as Iranian President Mahmoud Ahmadinejad addressed the UN General Assembly, protesters gathered outside the United Nations to demonstrate against him.
The protesters, some of whom were Iranians who emphasized that Ahmadinejad does not represent them, praised the U.S. government for its plan to remove MEK from its list of terror organizations.
In his speech, Ahmadinejad accused the West of nuclear "intimidation".
"Arms race and intimidation by nuclear weapons and weapons of mass-destruction by the hegemonic powers have become prevalent," Ahmadinejad said in a rare outburst in the rambling 35 minute speech.
"Continued threat by the uncivilized Zionists to resort to military action against our great nation is a clear example of this bitter reality," he added in his only reference to Israel.