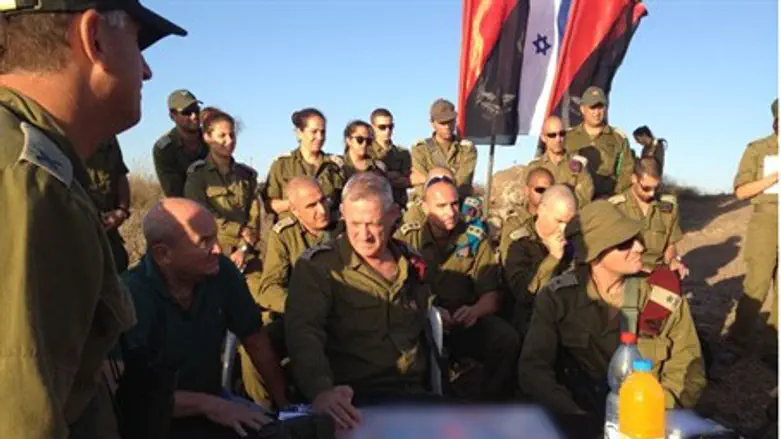 Chief of Staff at exercise.
IDF Spokesman's Unit
The IDF's Chief Artillery Officer, Brig. Gen. Roi Riftin, said Wednesday that the surprise exercise being held in the Golan Heights is one of the largest the IDF has held recently and that two divisions are taking part in it. Syria was reportedly informed in time that the drill is just an exercise and that there is no hostile intent on the part of the IDF.
The exercise had been planned for a long time, he said, but few in the IDF knew about it. The Head of Central Command only learned about it in the past 24 hours, he said.
As the Rosh HaShana holiday ended, Brig. Gen. Riftin began calling up fire monitors to the drill, followed by the combat soldiers and various units. Most of the IDF's Northern Command was also reportedly in the dark regarding the drill until the last moment, when its soldiers began being called up to the Golan Heights.
The drill reached its climax in the afternoon hours as artillery batteries began directing live fire at targets in the Golan Heights.

"The drill is one that is routine, and part of a program of tests and surprise military exercises held throughout the year," the IDF Spokesperson's Unit explained. "This exercise is being conducted under the command of chief artillery officer Brig.-Gen. Ro'i Riptin."
Just a week ago, Prime Minister Binyamin Netanyahu and Chief of Staff Lt.-Gen. Benny Gantz joined the head of Northern Command, Maj.-Gen. Yair Golan, to supervise a pre-holiday military drill testing the Golani Brigade at the Golan Heights. 
Gantz underscored the importance of Israel's being able to "maintain our readiness, because the environment around us is volatile."
The Chief of Staff was present at the drill, and was accompanied by Maj. Gen. (res.) Nati Sharoni, who was Chief Artillery Officer in the Yom Kippur War. Gantz ordered a surprise drill held last year, too, just before Yom Kippur.