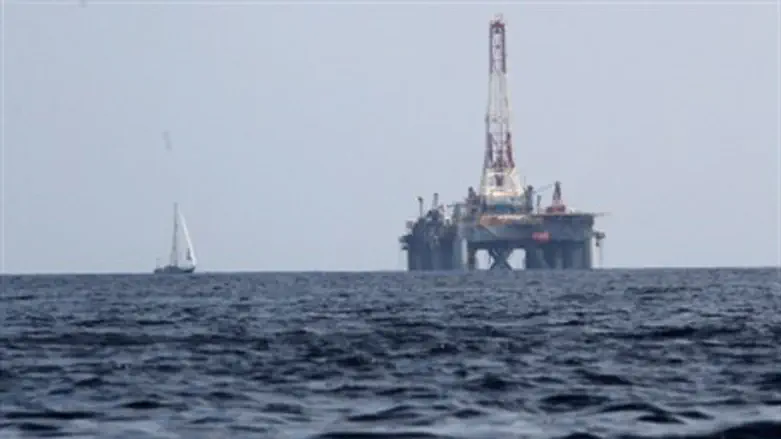 Gas rig in the Mediterranean
Israel news photo: Flash 90
Some rights to the mighty Leviathan natural gas field may be up for sale, according to one of the partners that discovered the field.
The Leviathan field, discovered off Israel's northern coast in 2010, was considered the world's largest offshore natural gas discovery in the past decade. Its estimated reserves total approximately 17 trillion cubic feet of gas. The U.S.-Israeli group developing the field is hoping to uncover up to 600 million barrels of oil beneath that find.
The firms developing the field are considering offers "from leading international companies" to expand the group, according to a letter sent to the Tel Aviv Stock Exchange.
Avner Oil Exploration, one of the partners, wrote in the letter that purchase offers have been made for up to 30 percent of the rights to the field.
Avner is a subsidiary of the Israeli Delek Group, which also includes Delek Drilling, and which leads the group with a 45.34 percent stake. Texas-based Noble Energy, the second-largest partner, owns 39.66 percent of the rights to the field, with Ratio Oil Exploration holding the remaining 15 percent.
Production at the well, located about 80 miles (130 kilometers) west off the Haifa coast in the Mediterranean Sea, is expected to begin in 2017.
However, drilling at the site was suspended just before the summer began, and before the primary objective was reached in the second stage of operations, due to high pressure and certain mechanical limitations, Noble Energy reported in May. Operations stopped at a depth of 21,400 feet (6,522 meters).