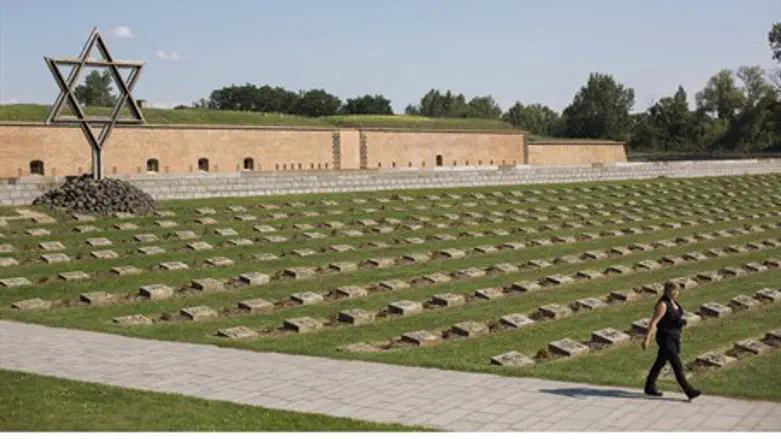 symbolic Jewish cemetery
Israel news photo: Flash 90
The mayor of Lublin, Poland has said that he will introduce a resolution before City Council this week to ensure that the area surrounding the former Nazi death camp at Majdanek is permanently designated a protected area in order to prevent construction of a commercial crematory nearby.
Last week, the Ant-Defamation League (ADL) raised concerns about a plan by the Polish funeral company Styks to construct a commercial crematorium next to the site of the former camp, which today serves as a state Holocaust memorial and museum.
"I understand the outrage of many communities, which stand firmly opposed to the proposal to build this type of building so close to the site of the former extermination camp," the Mayor of Lublin, Dr. Krzysztof Zuk, wrote in a letter to ADL National Director, Abraham H. Foxman, "I will do everything in my power to ensure this place in Lublin is treated with due respect and is regarded as a most sacred place of remembrance for the victims of the Holocaust."
On August 29, the ADL wrote a letter voicing concerns about the insensitive nature of the proposal to build a commercial crematorium near Majdanek, the concentration camp where thousands of Jews were gassed and incinerated during the Nazi occupation.  Foxman, who is, himself, a Holocaust survivor, wrote of the "pain and insult" the project would cause if permitted to proceed.
In his letter to ADL, Zuk noted that in 2008, Lublin City Hall refused to issue a permit to the developer in a move that effectively blocked the project from going forward. However, the ruling was appealed by the crematory's investors to the Local Government Appeal Court, which ordered the city to reconsider the permit request.
The Mayor's Office then appealed to Poland's Minister of Culture and National Heritage Areas to create a protected zone for the area surrounding the Majdanek memorial. The Culture Ministry created the regulated zone, but failed to establish an adequate buffer that extended beyond the immediate area outside of the museum, Zuk indicated in his letter.
"The mayor's thoughtful and sensitive proposal will correct this omission and should be adopted by the city council," Foxman said.