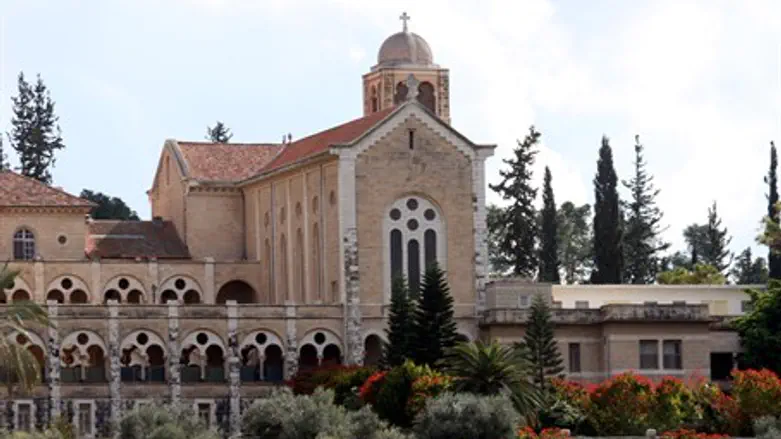 Latrun monastery
Israel news photo: Flash 90
Government ministers strongly condemned on Tuesday evening the vandalism at the monastery at Latrun, west of Jerusalem.
The vandals set the monastery's wooden door on fire and scrawled graffiti with hate messages against Christianity. Among the slogans were "Jesus is a monkey" and "Migron."
No suspects in the incident have been arrested of yet, but police are investigating and said that "price tag" vandals may not have been responsible.
Police officials said that other signs lead them to believe that the vandals may have been hareidi religious Jews and not necessarily youth from Judea and Samaria who have been accused of vandalism as a reaction to government expulsions of Jews.
Foreign Minister Avigdor Lieberman said the vandals "are net damage, more than any other factor."
"We of all people, who have suffered persecution as a nation, as a minority, cannot accept this small group which harms Israeli soldiers, security men, minorities, mosques and churches. This is net damage and we must condemn them," Lieberman added.
Vice Prime Minister Moshe Ya'alon also condemned the incident and said, "This is a heinous act of terrorists whose aim is to stir up strife."
"Israel cannot tolerate such actions, and we must treat them all firmly, as we treat terrorism," he added. "Such an act is not Jewish and does not represent the Jewish ethics and values ​​by which the State of Israel should exist."
At the same time, MK Orit Zuaretz (Kadima) was quick to blame nationalists for the arson and graffiti.
"There is no end to the settler terror that takes Netanyahu and his government hostage in the circle of violence and extremism," Zuaretz said. "This wimpy government accepts violence and terror as a legitimate reaction to the evacuation of Migron and fails to act resolutely against them," she charged.