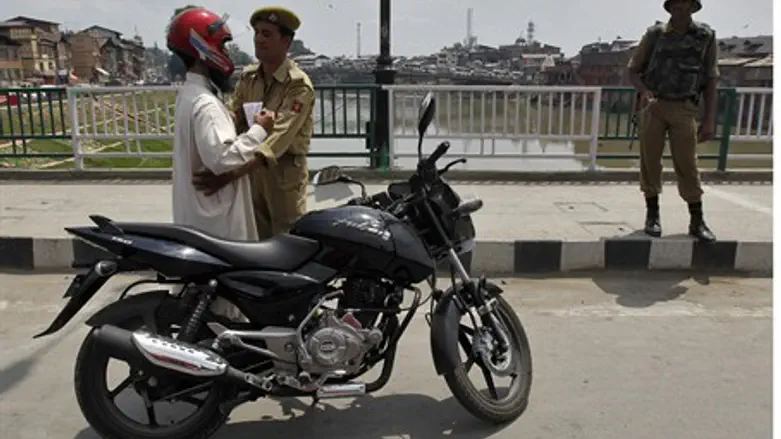 Police search in Kashmir ahead of India indep
Reuters
The Indian government has arrested more than a dozen terrorists in a sting operation from groups planning attacks on nuclear facilities.
At least 16 operatives were arrested on suspicion they planned to blow up nuclear energy plants in the country. They were caught in Bangalore, Hyderabad, and Karnataka.
Police said they believe there will be more arrests, adding that in addition to the nuclear plants, the group had planned to attack Indian military installations. They added the operatives were supplied with money and equipment from Pakistan and Saudi Arabia, and that their handlers were located in both countries.
The terrorists were linked to radical Islamist terror organizations Harkat-ul-Jihad-al-Islami (HuJI) and the Pakistan-based Lashkar-e-Taibe. The latter group was responsible for the massive multi-site terrorist attack on Mumbai in 2008 that left 166 dead and hundreds of others wounded.
Among the sites targeted in that attack was the Nariman Chabad House, and its directors, Chabad-Lubavitch emissaries Rabbi Gavriel and Rivka Holtzberg. The young Israeli couple was murdered along with the four Jewish guests who were at the Chabad House at the time. The only Jew to survive the bloodbath was the couple's two-year-old son Moishe, who was rescued by his Indian nanny, Sandra.
It was announced last Thursday that the United States intends to impose sanctions on seven heads of the Lashkar-e-Taiba terror organization. In the framework of the sanctions, the assets of the seven leaders will be frozen, including assets belonging to Sajid Mir, suspected of planning the attack on Mumbai, and on the Nariman Chabad House. The organization is known to be active against India from Pakistani territory.