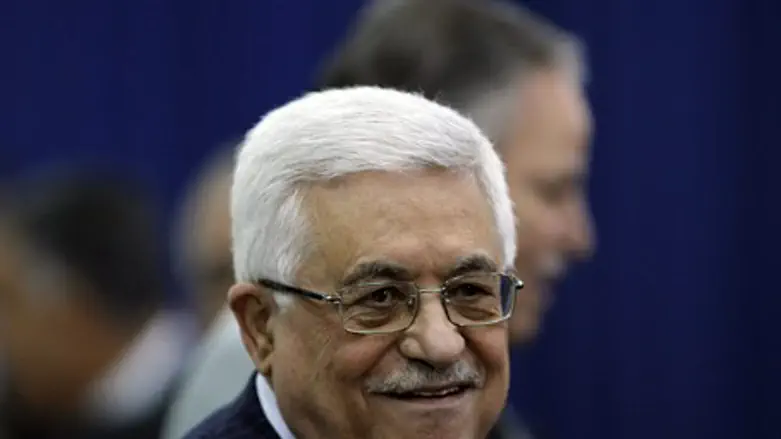 Mahmoud Abbas
Reuters
Palestinian Authority Chairman Mahmoud Abbas asked Iranian President Mahmoud Ahmadinejad to help establish a Palestinian state along the pre-1967 borders, PLO negotiator Saeb Erekat said Friday.
The Bethlehem-based Ma'an news agency reported that Abbas and Ahmadinejad met in Tehran on Thursday for what Erekat described as "frank and productive" talks.
Erekat told Ma'an that Abbas had indicated to Ahmadinejad that the "Palestinian" diplomatic quest was to establish a state along the pre-1967 borders with Jerusalem as its capital.
Abbas said that the mission had been approved by both the Arab Peace Initiative and the foreign affairs summit in Tehran in 2003.
Ahmadinejad called on Abbas to implement reconciliation between his Fatah party and Hamas immediately, Ereket told Ma'an, adding that Abbas reassured the Iranian leader that national unity was his "top priority."
The PA recently announced its intention to turn to the UN General Assembly for recognition as a state.
In September 2011, Abbas applied for full UN membership at the UN Security Council. Israel and the U.S. staunchly opposed the bid, which failed due to a lack of support in the 15-member council.
Abbas' meeting with Ahmadinejad took place on the sidelines of the summit of the 120-nation Non-Aligned Movement. Earlier this week, he threatened to pull out after Hamas's Prime Minister in Gaza, Ismail Haniyeh, announced he had also received an invitation to the summit.
Haniyeh later pulled out of the trip, citing a desire not to damage reconciliation efforts. Sources told Ma'an that the debacle started when Supreme Leader Ali Khamenei invited Haniyeh, while Abbas was invited officially by Ahmadinejad.
Erekat told Ma'an that Abbas reassured Ahmadinejad that neither the PLO nor the Palestinian Authority objected to Iran or any other country inviting Hamas leaders to visit.
However, Abbas said that inviting Haniyeh to the Non-Aligned Movement summit without consulting the PLO was considered a snub to the legitimacy of the PLO as the sole representative of the Palestinian people.
Ahmadinejad denied inviting Haniyeh to attend the NAM summit, Erekat said.
(Arutz Sheva's North American Desk is keeping you updated until the start of Shabbat in New York. The time posted automatically on all Arutz Sheva articles, however, is Israeli time.)