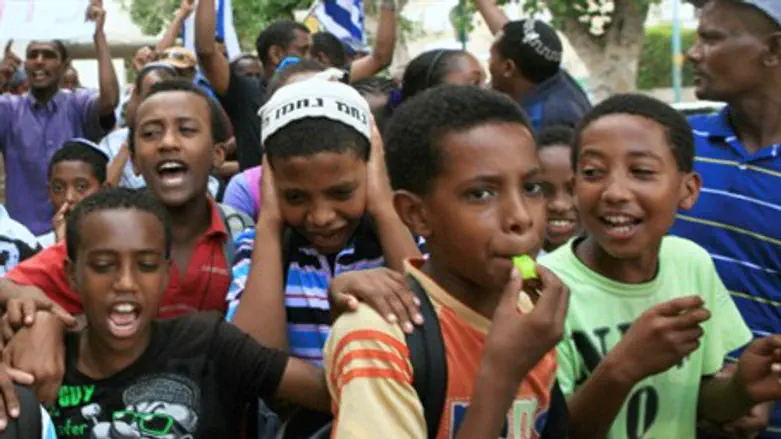 Ethiopian students (illustration)
Flash 90
The Tel Aviv branch of Citibank made the first day of school much easier for Ethiopian-Israeli students, by donating 200 backpacks and school supplies.
The supplies were distributed to the students by the Ethiopian National Project (ENP), a unique grassroots partnership of Israeli governmental agencies, global supporters and the leadership of the Ethiopian-Israeli community.
With 65% of the Ethiopian-Israeli community's children living under the poverty line, many families – new immigrants and veterans alike – are simply unable to afford many of the 'back-to-school' basics. The generous gift from Citibank helped alleviate these concerns for hundreds of Ethiopian-Israeli families this school year.
"We, at Citibank, are so pleased to be able to make a difference and lend a hand in this important effort," said Howard Jackson, Director of Citibank Israel. "By supporting the Ethiopian-Israeli community through ENP projects, we believe that we are doing our part to help ensure the full integration of this cherished population into Israeli society."
The recipients of the backpacks and school supplies are students in ENP's Scholastic Assistance Program, a project that works to ensure that thousands of Ethiopian-Israeli students obtain the supplemental scholastic assistance they require to perform well in school and on their matriculation exams.
"If a targeted investment is made in the Ethiopian-Israeli community today, if they are given the physical tools and the encouragement and support they need to grow, these children will be the leaders of tomorrow," said Roni Akale, Director-General of the Ethiopian National Project. 
Over the years, ENP program participants have demonstrated the potential to perform as well as, if not better, than their other Israeli peers if provided with even minimal assistance. 
The most recent evaluation of ENP, carried out by the Myers-JDC-Brookdale Institute, revealed that ENP participants obtain nearly equal matriculation acquisition as their peers nationwide.  Female participants have even surpassed the matriculation performance of their female peers nationwide – 68% of ENP's female participants obtain bagrut (matriculation in Hebrew) versus a 65% rate for their peers.
With the help of experts in the field, ENP provides four after-school teaching hours per week as well as social and emotional support to help Ethiopian-Israeli bridge the gaps between the school experience and their home life. In the coming school year, more than 4,300 Ethiopian-Israeli students ages 13-18 throughout Israel will receive assistance from ENP.
Citibank joins the many global supporters, including Jewish Federations across North America, the Government of Israel and local municipalities, who help fund ENP's programs.