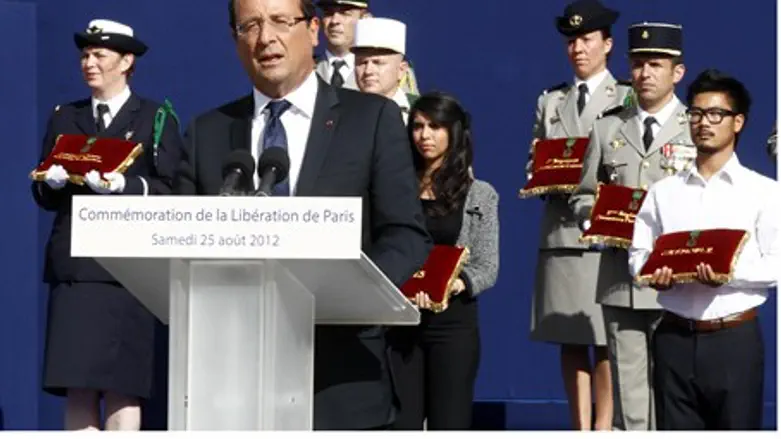 President Francois Hollande
Reuters
The president of France formally asked the Syrian opposition to form a provisional government on Monday.
"France asks the Syrian opposition to form a provisional government – inclusive and representative – that can become the legitimate representative of the new Syria, " President Francois Hollande announced in an address at the presidential palace to a group of new French ambassadors.
"We are including our Arab partners to accelerate this step. France will recognize the provisional government of Syria once it is formed."
However, there are a number of different opposition groups in Syria, and none of them have formed alliances with each other thus far.
The Syrian National Council appears to be the largest, and main umbrella group. However, there are a number of others, and it is not clear whether they would be willing to acknowledge the leadership of the SNC.
The appeal was clearly made in hopes the fragmentation in the Syrian rebellion would coalesce into a coherent, unified revolutionary council with whom diplomats could work.
The United Nations and various human rights organizations have estimated that up to 21,000 men, women and children have been brutally tortured and killed in the savage civil war that was ignited nearly 18 months ago. The conflict began in March 2011 when government forces brutally punished a youth after he scrawled a slogan on a wall in Dera'a in sympathy with the region-wide Arab Spring uprisings.
The division among the opposition forces has essentially made it impossible for international leaders to offer any significant assistance, a fact which has frustrated members of the United Nations Security Council whose efforts to condemn Syrian President Bashar al-Assad have been stymied repeatedly by fellow members China and Russia, both of whom have heavy investments in his regime.
Hollande's statement, the first of its kind, appeared to be aimed towards nudging the rebels towards organizing themselves for "the day after."