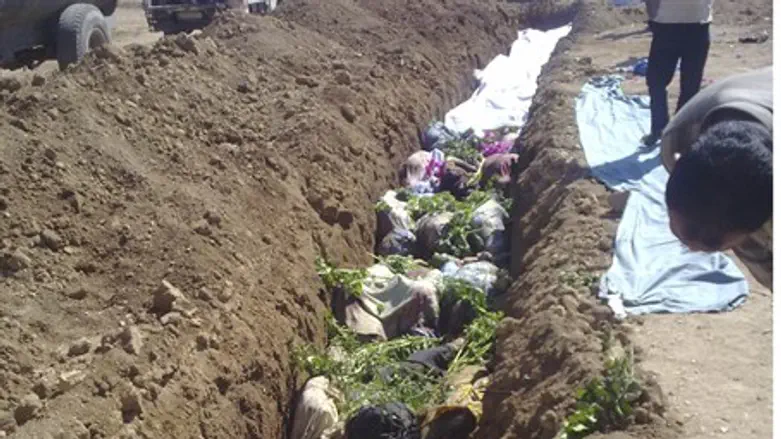 Mass burial at Daraya near Damascus
Reuters
At least 86 people were reportedly killed across Syria as the civil war continues to rage between government troops and opposition forces.
Of those, some 53 were killed in the capital and its surrounding communities, including 25 in Zamalka, according to the Local Coordination Committees of Syria activist group. Others were killed in Homs, Hama, Dera'a, Idlib and Deir Ezzor.
The new death toll comes in addition to more than 245 bodies that were found in a Damascus suburb over the past two days. Video of the mass burials that took place in Daraya on Sunday was posted on the Internet by anti-government activists.
"Daraya has been targeted because it is closest to Damascus, and was one of the first cities to revolt against the Assad regime," said Rafif Jouejati, spokeswoman for the Local Coordination Committees of Syria. "It was also at the forefront of the peaceful demonstrations at the start of the revolution," she added.
Government troops also began a new siege against the town of Madeeq Citadel in Hama province, although shelling has continued in Homs, which has been under siege for more than 80 consecutive days.
An attack helicopter sent by President Bashar al-Assad went into a nosedive, burst into flames and crashed in the city of Jobar, a suburb of Damascus, on Monday. The aircraft was hit by gunfire aimed by opposition forces, according to a report by the UK-based Syrian Observatory for Human Rights. The pilot and crew were allegedly killed in the crash.