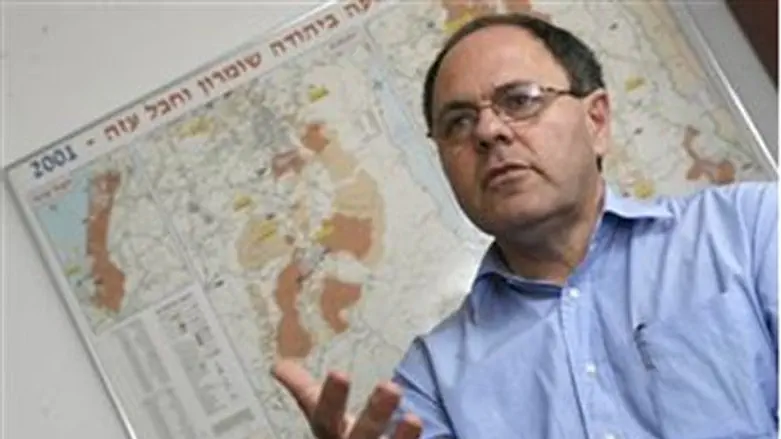 Yesha Community Council Chairman Danny Dayan
Israel news photo: Flash 90
Recent publicity given to Yesha Council Chairman Danny Dayan by the New York Times has angered leftist groups in the United States, but Dayan is not bothered by that fact.
Last week, the Timesdedicated its Saturday profile to Dayan, describing him as "passionately ideological yet profoundly secular."
The article focused in part on Dayan's pragmatic approach to the issue of Israeli settlement in Judea and Samaria, with even opponents such as Peace Now's Yariv Oppenheimer noting that Dayan can "speak to the public with a much more sensible argument and a much more moderate image" than more strictly ideological counterparts.
New York Times writer Jodi Rudoren noted that Dayan's approach has created some hostility among purely ideologically motivated youth, with some terming him a "danger to settlements" or even a traitor.
In the course of the profile Dayan revealed his long-term plan for Judea and Samaria: continue to build alongside Palestinian Authority Arabs, maintaining a cold peace. Then, when there is a regime change in Jordan, Israel and Jordan can work out a form of joint rule in Judea and Samaria.
The profile followed an op-ed Dayan wrote for the Times, in which he said that a two-state "solution" is no solution at all.
Dayan, who has argued vehemently against the idea of an independent Palestinian Authority state from its very inception, said in the piece, "The U.S. government and its allies in Europe should now abandon this failed formula once and for all, and accept that the Jewish presence in Judea and Samaria is a fait accompli. Instead of moaning that the status quo is unsustainable, the international community should work with the parties to improve it if possible."
Dayan's article irritated some American leftists, including many Jews. The day after the article appeared in the New York Times, the J Street organization launched a special page on its website, in which it gathered angry responses to Dayan's "chilling", as they put it, article. He calls it facing the facts.
While J Street prides itself as being "pro-Israel" and "pro-peace," many, if not most, Jewish constituents believe that the organization actually undermines the interests of the State of Israel and Jewish people. Numerous Jewish leaders and organizations have publicly disassociated themselves, altogether, from J Street's rhetoric and policies.
J Street has endorsed terror groups and one of its co-founders has even claimed that Israel's creation was "an act that was wrong."
The group has also hidden the fact that it receives hundreds of thousands of dollarsin funding from Pro-Palestinian Authority billionaire George Soros, who once said Israeli and American policies fuel anti-Semitism.
Last month the group targeted congressmen Joe Walsh (R-IL) and Allen West (R-FL), saying they are "not pro-Israel" because they support Israeli annexation of Judea and Samaria.
Dayan himself remains unfazed about the anger directed towards him. He told Arutz Sheva on Thursday that he attaches great importance to bringing the position of the residents of Judea and Samaria to the world.
"You have to remember that the New York Times is considered one of the strongholds of the left, led by Tom Friedman," said Dayan. "They asked me to write an article in which I tried to explain why the idea of ​​two states is dead. The article very much annoyed the leftists, including J Street, which published articles against me. After the flattering profile of me was published, they said I am a war criminal."
Dayan has been invited to participate in the prestigious Saban Forum in New York in November, and he said he sees such visits abroad as a most important task.
"It was a mistake that we haven't traveled all over the globe until now, but I'm glad that's slowly changing," he said. "The world is beginning to understand that we are a player that cannot be ignored. As a businessman in my past I traveled to many parts of the world and I know how to conduct myself in the international arena. I am also fluent in two foreign languages, English and Spanish. During my upcoming trip to the United States, I'll meet new members of Congress and try to pass to them the message that the Jewish presence in Judea and Samaria is a fait accompli, that it's our country and that we do not plan on going anywhere."