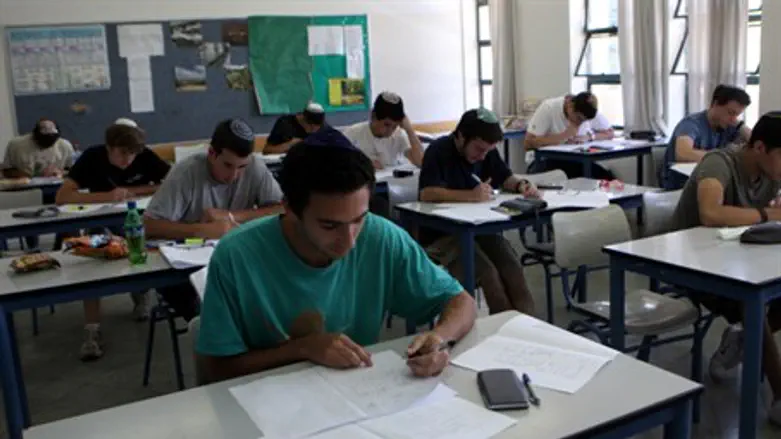 Students take the Bagrut tests
Flash 90
If you want your kids to get a good secular education in Israel, Shoham would be a good place to settle. Based on this year's Education Ministry's rating of towns and authorities in Israel with the highest number of students who took, or were eligible to take, the Bagrut (matriculation) tests, Shoham, with an 86.2% eligibility rate, was the top local authority for Bagrut eligibility this past academic year, for the third time running.
Shoham was followed by Kochav Yair, with an 84.82% rate, and the Sharon Coast Regional Council, which includes towns like Ramat Hasharon, with an 82.22% rate. Other towns in the top ten included Kiryat Ono (81.51%) and the Modiin-Maccabe'em-Re'ut school district (79.56%).
Eligibility is based on a student's having either having attended school for 12 years and taking preliminary preparatory courses, or having made alternative education arrangements and taken the courses. The tests are generally taken by students in academic (as opposed to vocational) high schools, and, while the scores are not necessarily considered by application committees at some colleges, are essential for entry into Israel's major universities, like Hebrew University, Tel Aviv University, the Technion, etc.
The towns with the poorest showings were towns with heavy hareidi-religious populations, reflecting the preference of families in those towns to send their children to yeshivas instead of academic high schools. In Kiryat Sefer, 10.96% of twelfth graders were eligible to take the tests, while 10.89% of Bnai Brak youths were eligible. Closing out the list was Beitar Ilit, with a 10.88% rate.
Jerusalem also did poorly, reflecting the large number of hareidi-religious Jews and Arabs (many of whom do not complete academic programs). Jerusalem came in number 135 on the list of 150 towns and authorities, with a 41.68% rate this year. With that, the city said, the rates for secular and National Religious schools were much better – 68.37% and 63.86% respectively. Beit Shemesh, which also has a large hareidi-religious population, had a rate of 49.9%.
In communities in Judea and Samaria, there was a slight drop in this year's eligibility rates, compared to last year. Students in the Binyamin Regional Council had the best rate, at 71.43%. In Gush Etzion, the rate was 69.47%, while in the Samaria Regional Council, the rate was 66.3%. The rates in those areas last year were 76.11%, 71.31%, and 69.09%, respectively. It is also possible that admissions personnel in universities may take into consideration that the scores of prospective students from these areas are affected by the additional stressors they face -- such as traffic terror and other attacks by Palestinian Authority Arab terrorists.