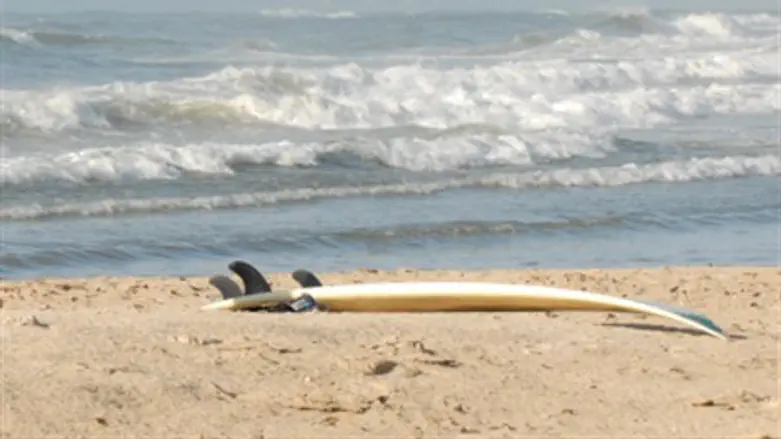 Beach
Flash 90
Thousands of Palestinian Authority Arabs flocked to the beaches of Tel Aviv on Monday as they marked the Eid al-Fitr holiday, which is celebrated at the end of the holy month of Ramadan.
The Arabs came from places such as Shechem, Balata, Kabatia, Bidia, Ramallah, Deir Ammar, Jerusalem, Bethlehem and even from PA Arab refugee camps. They celebrated the holiday with barbecues, mass bathing in the sea and photographed themselves with local hotels in background.
Local business owners told Arutz Sheva on Wednesday that they placed extra security guards at the entrance to their places of business out of fears for customers' safety. The business owners added that the phenomenon repeats itself every year on Eid al-Fitr.
Local residents added that the beach was full of PA Arabs and it was hard to believe that this was a Tel Aviv beach. "Why not send them to the beaches which Israel evacuated in Gaza?" they wondered. Gaza has beautiful stretches of sandy beach at which Israelis once loved to vacation.
The City of Tel Aviv said in response that "the beaches in Tel Aviv-Yafo are open to city residents and visitors, regardless of religion, race or sex."
The city added, "So long as those visiting the beaches do not break the law or violate the rules of conduct on the beaches, there is no reason that any interested person cannot benefit from the beaches. Public order on the beaches is maintained by the Israeli police, in cooperation with and with the assistance of beach inspectors."
In Gaza, Eid al-Fitr was celebrated by having young Arab children approach the border with Israel to bring sweets, cakes and chocolates to Islamic Jihad terrorists stationed at various strategic outposts.
The terrorists and guards who were stationed in the western area of the region said they were surprised to see the small children approaching. They thanked the children's mothers for sending them and promised "not to deviate from the path of jihad and resistance, despite all cost and difficulties."
The Anti-Defamation League noted this week that many of the popular television specials airing across the Muslim and Arab world during the month of Ramadan are "rife with anti-Semitic themes and expressions of hatred for Israel."
While anti-Semitic conspiracy theories and anti-Israel plot lines are common themes in the Arab media, there is an upsurge of such programming during Ramadan, when satellite television viewership increases.