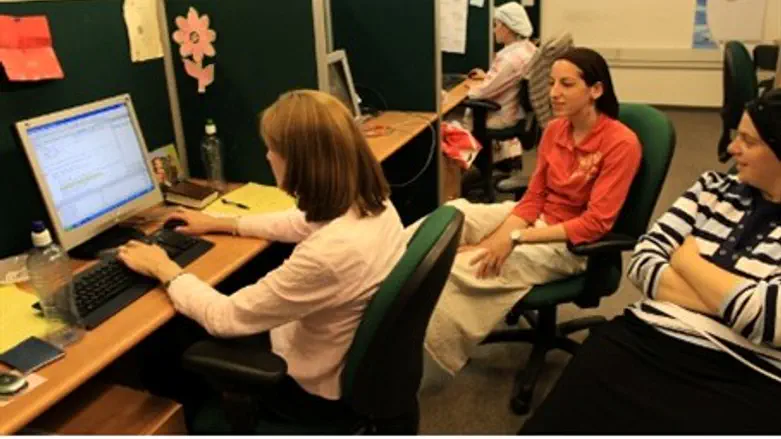 Ultra orthodox women work on their computers
Israel news photo: Flash 90
The war of words between Israel and Iran is being treated as a real war by foreign investors and customers who are scared of the real thing.
Overseas customers  are beginning to demand that Israeli exporters explain to them whether they can supply merchandise, a manufacturer of printed boards told Globes.
"The lively security debate over whether Israel will attack Iran is causing us immense damage and uncertainty," Jacob Rosenberg, chairman of RH Technologies, told the business newspaper.
"Many U.S. companies that are our customers are signaling pressure and panic and demanding answers from us, such as how they will receive components from us if Israel's home front is bombarded by hundreds of rockets and missiles a day," he said.
Rosenberg has made plans for production of printed boards in Hungary in case a missile war knocks out his production facilities.
He said that if necessary, he will transfer 100-150 of his technicians and engineers to Hungary to make sure the foreign operation runs smoothly. In the meantime, the Israeli manufacturing plant is producing extra components so that the company can stockpile inventory for wartime needs.
He criticized what he called an "irresponsible debate…managed in the media."
The concern from foreign hi-tech buyers has prompted some of them to demand sensitive codes that usually are not given to customers, who  are now worried that their Israeli suppliers will be knocked out of existence, leaving them without data bases.
The Israeli economy already is suffering even though not a single shot has been fired. Harrel Finance wrote in its weekly review, "The Iranian cloud will continue to hang over the Israeli market in the coming weeks. The economic consequences of a war with Iran are difficult to predict, but there is no doubt that their effect on the local economy will be substantial for a period of time.
"In view of the positive atmosphere in foreign stock markets and the declines in government bonds, an increasing number of American investors have preferred to switch to corporate bonds despite the shrinking margins. However, this is not seen in the Israeli market; on the contrary, the TASE Tel Bond indices fell last week."
The shekel-dollar rate has risen gradually the past several weeks from the area of 3.70 shekels to a dollar to more than 4 shekels.
The rate early Tuesday afternoon was 4.02 shekels to the dollar.