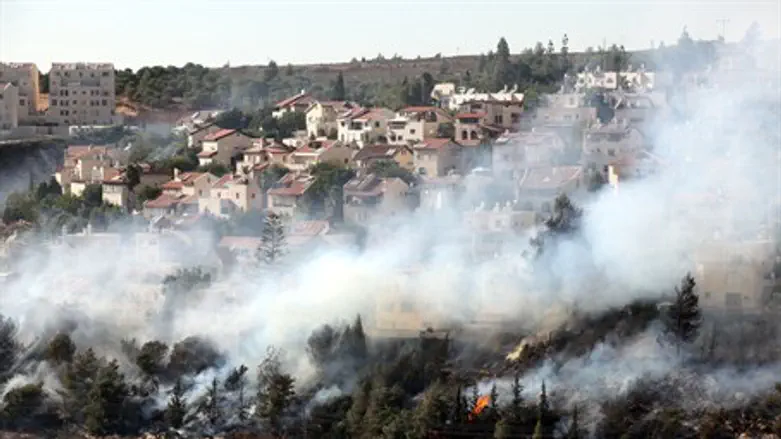 Arson (file)
Flash 90
More than a dozen crews of firefighters battled a forest fire that broke out Monday afternoon near the Jerusalem suburb of Beit Shemesh.
The blaze erupted in a forested area south of the sprawling suburb south of the capital, at Neve Michael, in the late afternoon.
At least 13 firefighting crews were called into action to battle the blaze, along with three firefighting aircraft spraying water from the sky. Officials said there was no danger to residential areas. 
By 7:00 p.m. the Fire and Rescue Services reported that crews had managed to contain the fire, which had raged for hours. No injuries were reported. 
Earlier this month, a similar forest fire broke out in the area of the town of Even Sapir, also in the Jerusalem region. Although the blaze was extinguished, it re-erupted a day later, forcing firefighting crews to return to the scene to douse it again.
Last month, six firefighting aircraft and at least 21 crews of firefighters were needed to control a wildfire that began near the Ein Hemed national park outside of Jerusalem.

The blaze quickly spread in the sweltering heat, leaving at least two people lightly injured due to smoke inhalation, and one firefighter hurt after falling from a ladder. Two roads had to be closed to traffic to fight the blaze.
In June, a major fire at Motza, near the western entrance to Jerusalem led police to shut down the Tel Aviv-Jerusalem highway for hours. Firefighters battled the blaze at several locations.
In a number of cases, suspects were caught and charged with arson in what appears to be a developing trend towards a new kind of Arab terror in the Jewish State: arson terrorism.