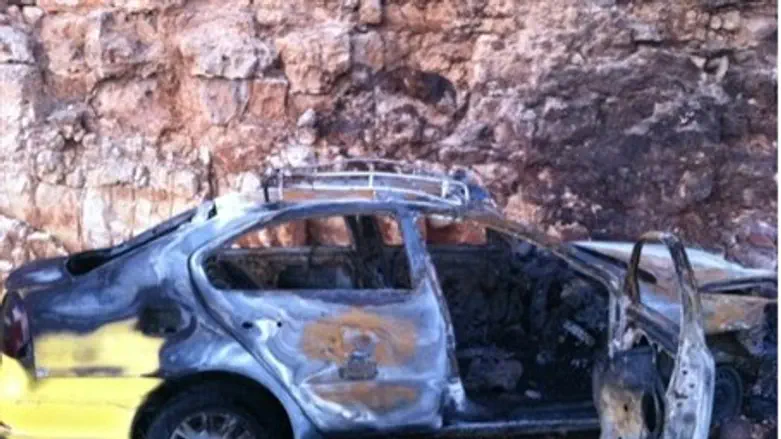 The Arab taxi
Judea and Samaria police
The Commander of the IDF's Judea and Samaria Division, Brigadier-General Hagai Mordechai, has ordered extra troops to patrol major roads in Judea and Samaria, after a firebomb was thrown at an Arab taxi on Thursday evening.
Six Arabs were wounded in the incident, which took place between Kfar Etzion and Gevaot, south of Jerusalem. Two of them were in moderate to serious condition, and the rest were reported in light to moderate condition. All were evacuated to a hospital.
Mordechai emphasized the importance of quickly investigating the issue and bringing the perpetrators to justice. He added that the incident was a serious one with the potential of compromising the security stability in the region.
Military sources said on Thursday evening that a preliminary investigation of the incident has led them to believe that the firebomb was thrown by Jewish Israelis.
Prime Minister Binyamin Netanyahu strongly condemned the incident and instructed the Shin Bet to act decisively to catch perpetrators.
"This is a very serious act. We will do everything to catch those responsible and bring them to justice," he said.