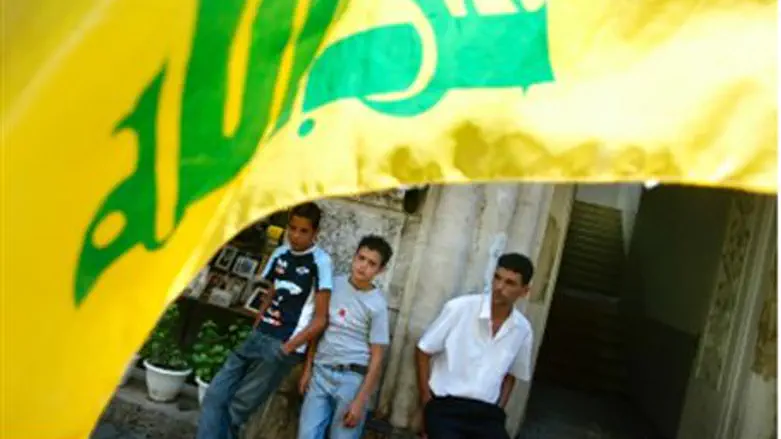 Hizbullah
Israel news photo: Flash 90
Police and the Shin Bet have nabbed an Israeli-Arab terrorist cell affiliated with Hizbullah. The cell was holding many weapons, including powerful bombs and M-16 rifles.

The bombs were smuggled into Israel from Lebanon, and were intended for use in terrorist attacks within Israel.

A total of 12 people were arrested in connection to the affair, and eight have been indicted. The case was initially under a gag order.

Most of the suspects are drug smugglers from the town of Ghajar in the north and terrorists from the Nazareth area in the Galilee. Some of the suspects from Ghajar apparently believed that the weapons they were transporting were drugs.

The detainee accused of bringing the bombs from Lebanon to Israel is a 17-year-old drug dealer from Ghajar. He has admitted to meeting four Lebanese drug smugglers, receiving packages from them, and bringing them to Israel, but has denied intentional involvement in terrorism.

All in all, drug dealers in Ghajar brought in 20 kilograms of C4 explosives.

An older suspect from Ghajar, 37-year-old Shaban Mohammed Hatib, is suspected of knowing that the packages were sent by Hizbullah. Hatib was in contact with Lebanese man George Nimer, a known Hizbullah member, regarding the transfer of the packages out of Ghajar.

The man suspected of transporting the bombs out of Ghajar is school bus driver Moussa Azzam Kassem Hatib, 35. He is believed to have delivered the bombs to Arafat Biyumi of Nazareth on June 11 of this year. Biyumi, 22, then delivered the bombs to Faraj Zoabi, 27, of Nazareth.

"This affair demonstrates, yet again, the tight times between Hizbullah and Lebanese drug dealers," Shin Bet commanders said. It also shows that Hizbullah "acts like a crime organization," they added.