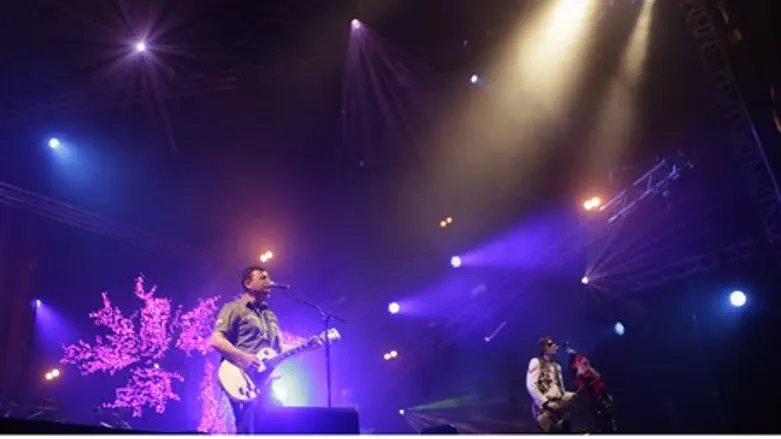 music festival
Reuters
Lollapalooza, one of the largest U.S.-based music festivals, will be coming to Tel Aviv in the summer of 2013, founder Perry Farrell announced Saturday.
Farrell, who is Jewish, will be bringing together 50 bands for the Lollapalooza festival, which will take place August 20-22 in Tel Aviv's Yarkon Park, making it the first large-scale global music event in the country.
Festival organizers, however, will be faced with confronting and contending with the ongoing campaign for artists to boycott Israel. Yet, despite the challenges that lay ahead, Israel will mark the third international location for Lollapalooza, which expanded to Chile in 2011 and Brazil earlier this year.
"It's like an oak seed," he explained to CNN. "You look at it and go, 'What's the potential of that thing?' Put it in the ground and it starts to sprout it, and it keeps growing, and more and more branches grow out of it."
The three-day festival is scheduled for mid-week, Tuesday through Thursday, in order to prevent it from interfering with Shabbat.
"I don't think it would be great to do it on a Friday night. No one would go," said Farrell.
The 53-year-old musician played in Tel Aviv with his band, Jane's Addiction, last September, and he is hoping that Tel Aviv will not be the only Israeli city to host a Lollapalooza festival.
"We got a call from Jerusalem, the Holy City, and they want Lollapalooza to be there, too," he confided. "But it's going to start in Tel Aviv, and we're going to do something in Jerusalem. The mayor's like, 'We want to bring young people, we want to change the perception of Jerusalem.' So we're even talking with them about it."
"Israel is an incredibly sophisticated music market," Marc Geiger of Lollapalooza partner WME Entertainment said of the move. "Consumers have a voracious appetite for entertainment, yet there has never been a major music festival.  To me, this combination screams Lollapalooza."
Stormy weather conditions Saturday brought a brief postponement and evacuation of Grant Park during Saturday's Lollapalooza in Chicago. The festival resumed in the evening.