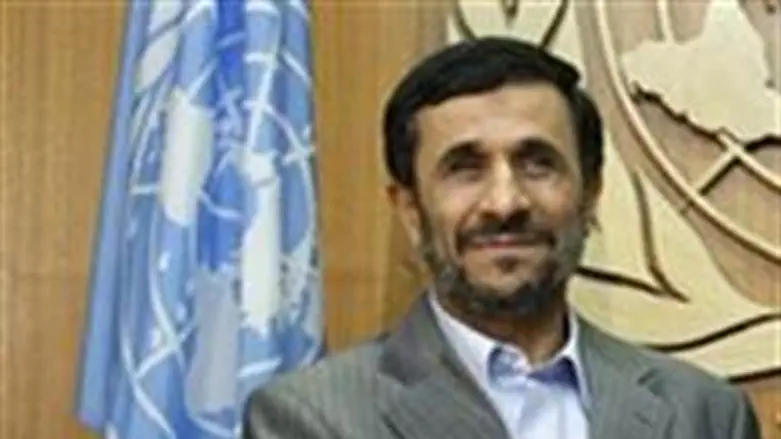 Iranian President Mahmoud Ahmadinejad
Israel news photo: Flash 90
Iranian President Mahmoud Ahmadinejad has once again called for the annihilation of Israel, which he labeled "the axis of unity of the world hegemonic powers."
Speaking in advance of International Qods Day, set this year for August 17, Ahmadinejad repeated his annual litany of hate for the Jewish State in a meeting with ambassadors and embassy personnel of Islamic nations in Tehran, according to the official state-run Islamic Republic News Agency (IRNA), quoting from a statement posted on the website of his presidential office.
"It has now been some 400 years that a horrendous Zionist clan has been ruling the major world affairs, and behind the scenes of the major power circles, in political, media, monetary and banking organizations in the world, they have been the decision makers..." the Iranian president claimed.
"The Zionist regime is both the symbol of the hegemony of the Zionism over the world and the means in the hand of the oppressor powers for expansion of their hegemony in the region and in the world," he went on.
"The Qods Day is not merely a strategic solution for the Palestinian problem, as it is to be viewed as a key for solving the world problems; any freedom lover and justice seeker in the world must do its best for the annihilation of the Zionist regime in order to pave the path for the establishment of justice and freedom in the world," he declared.
"Zionism is the modern times plight of the human society and when we meet the European politicians they say speak transparently about everything, but they refrain from talking about the Zionist regime, which proves that Israel is the axis of unity of the world hegemonic powers," he added.