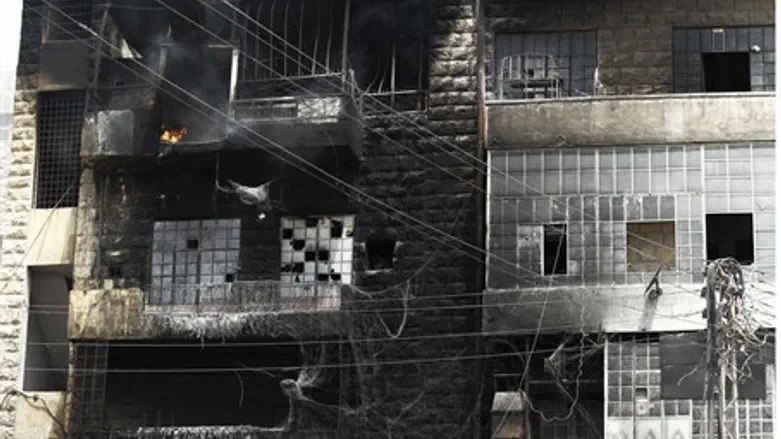 A building burns after shelling at Aleppo
Reuters
Syria's Foreign Minister on Sunday accused Israel of being behind the ongoing unrest in his country.
During a visit to Tehran, Walid al-Moualem and his Iranian counterpart, Ali Akbar Salehi, accused Israel of plotting to overthrow the regime of Syrian President Bashar Assad.
"The Israeli position towards the crisis in Syria proves that a plot was hatched against the regime in Damascus," Salehi said, accusing Arab states for adopting what he called "Israel's position" and following it.
He advised countries in the region to consider the implications of their positions and actions, warning that these countries will end up sinking as a result of these actions.
During the joint press conference, Moualem said that the regime in Damascus has the ability to "defeat all the conspiracies and military aggression and protect the Syrian land."
He said his country is facing a campaign by the United States, Western and Arab countries regarding the presence of weapons of mass destruction in Syria, "while Israel has more than 200 nuclear explosive heads."
"Syria is committed to the plan of UN and Arab League envoy Kofi Annan, but there are two important points: preventing any external aggression and maintaining the unity of our country," said Moualem.
Salehi added that the idea of a managed transition of power in Syria is "an illusion."
"Thinking naively and wrongly that if there is a power vacuum perhaps in Syria and if there is a transition of power in Syria, simply another government will come to power, that I think is just a dream," Reuters quoted Salehi as having said.
"It's an illusion. We have to look carefully at Syria and what's happening inside the country," he added.
The Syrian Foreign Minister's visit to Tehran took place as fierce battles continued in Damascus and in Aleppo.
Assad's government declared victory on Sunday in a hard-fought battle for Syria's capital Damascus, and pounded rebels who control parts of Aleppo.
Government forces have succeeded in reimposing their grip on the capital after a punishing battle, but rebels are still in control of sections of Aleppo, clashing with reinforced army troops for several days.