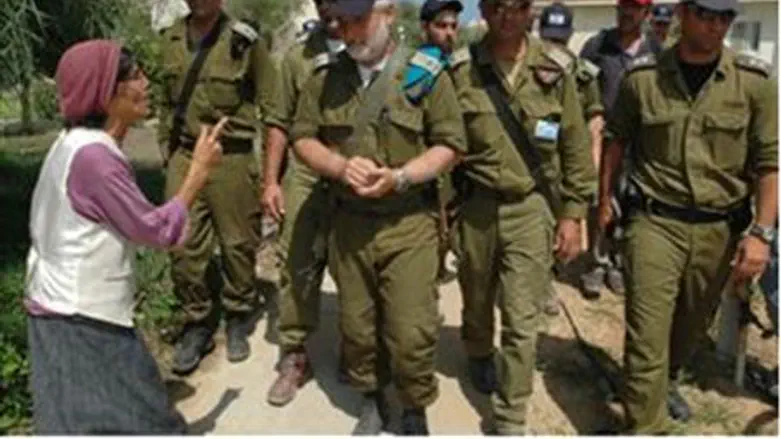 Expulsion of Gush Katif
Israel news photo: Flash 90
In the year 2005, in the Hebrew month of Av, Israel's government tore apart the lives of nearly 10,000 of its own people in pursuit of peace – but peace did not come.
On Tisha B'Av, Jews who were expelled from the Gaza region of Gush Katif, and northern Samaria (Shomron), their families, and many of the People of Israel mourn the destruction that occurred during the Disengagement from Gaza.
Jews had lived there for generations, raising their families, building thriving businesses and to a great extent also serving as the frontier protecting the southern region from terror. 
Since the Disengagement, Palestinian Authority Arab terrorists have increased the range and intensity of the mortar and missile fire aimed at southern Israel from Gaza. Today their deadly attacks reach dozens of kilometers further north than ever before, with many launched from terrorist camps built upon the ruins of once-flourishing Jewish towns.
The law that led to the Disengagement, passed during the administration of former Prime Minister Ariel Sharon, mandated the destruction of 23 Jewish communities in the Gush Katif and northern Samaria (Shomron) regions, and the complete withdrawal of all Israel Defense Forces from Gaza.
It was estimated by the government that the expelled families would at maximum be forced to live in temporary quarters for only a year until government compensation would enable them to re-establish their lives and rebuild their communities elsewhere in Israel.
Instead, seven years later, only 35 percent of the families are living in permanent homes, according to a poll by the Ma'agar Mochot organization. The survey was commissioned by the Gush Katif Residents' Council on the seventh anniversary of the Disengagement. The rest are still living in the relatively tiny "caravillas" they were forced to inhabit upon their expulsion, many of which are badly in need of repair. Some live in rented apartments. Some live elsewhere.
There are 50 farm owners, of the original 400 business owners, still waiting for the government to allocate them land in exchange for that which they were forced to abandon. The unemployment rate among former Gush Katif residents is a whopping 14 percent, as opposed to the 4 percent rate seen when they were living in their home communities. Countless social and mental health problems also arose as a result of the Disengagement from Gaza, including suicides, PTSD, depression, anxiety, divorces, academic failures and more.