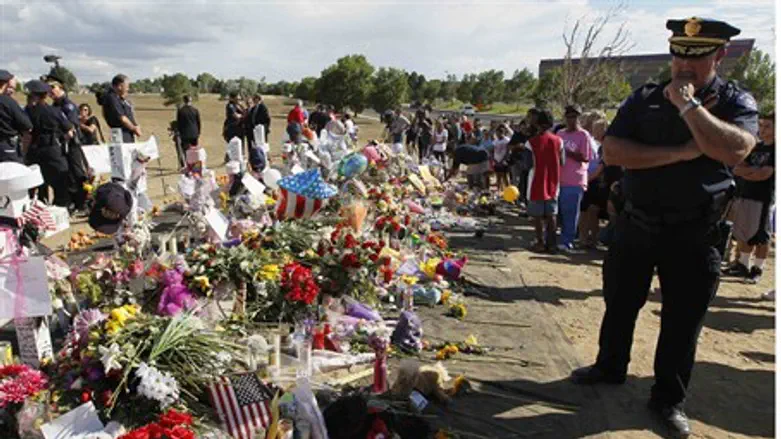 memorial for victims of shooting
Reuters
The Allied Jewish Federation of Colorado set up a fund to aid the victims and families affected by the recent shooting that killed 12 people and injured 58 at a movie theater in the city of Aurora.
"No other community in this country understands terrorism more than the Jewish community," the federation's CEO, Doug Seserman, said in a statement.
"While the gunman in Aurora is a terrorist of a different kind than we've experience in Israel, don't be mistaken. This guy is a heinous terrorist who gunned down innocent Coloradans to make some kind of psychotic point," said Seserman. "As Jews, we are guided by the principle of Tikkun Olam, repairing the world. And that's not just the Jewish world. We are obligated to help in every way we can."
Suspect James Holmes, who allegedly shot innocent moviegoers at the premiere of "The Dark Knight Rises" on July 20, was reported to be a former counselor at Camp Max Strus, which is run by Jewish Big Brothers Big Sisters in Los Angeles County.
As the community umbrella organization, the Federation mobilizes resources to respond quickly to crisis situations. In response to the tragedy, Mayor Shmulik Rifman of Ramat HaNegev, Federation's Partnership region, issued a statement saying, "We are all stunned by the news of the brutal attack and the terrible tragedy of killing innocent people in Aurora. Needless to say we share the grief of all Coloradans."
"We mourn the lives of those who were killed and pray that those who were wounded will be healed speedily," the statement added.