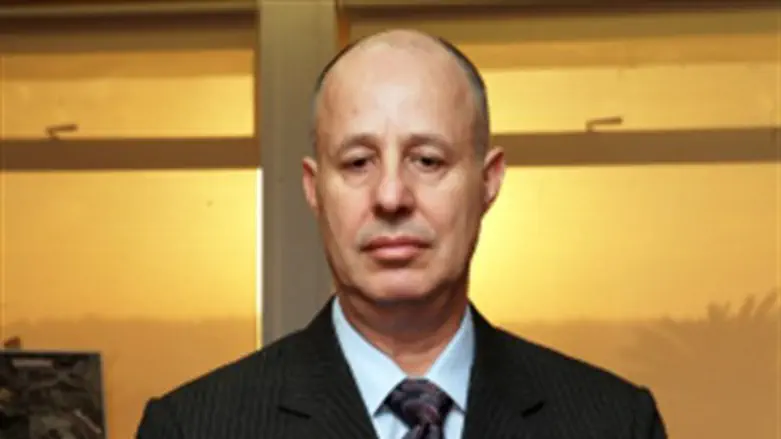 Tzachi Hanegbi
Israel news photo: Flash 90
The attempts by Likud to facilitate the defection of members of Kadima are linked to the tension over Iran, according to sources close to Kadima chairman Shaul Mofaz. The sources told IDF Radio that Netanyahu wants the defectors to shore up his coalition, in order to have wider political support as Israel prepares for a military confrontation with Iran.
In a news conference Monday, Mofaz denounced the attempted defection, and said, among other things: "Kadima will not embark on operational adventures that will endanger the future of our daughters and sons."
It is this sentence that is being interpreted as a veiled reference to the widely predicted upcoming war with Iran, over its nuclear program.
Mofaz is now being accused of irresponsible behavior by indirectly confirming that Israel does indeed plan an imminent strike on Iran.
Netanyahu's plan, according to the sources near Mofaz, is to appoint former Likud minister and currently Kadima member Tzachi Hanegbi as Minister of Home Front Defense. In this scenario, Hanegbi would not only support the strike on Iran but also assist Netanyahu in explaining the move during the war and in its aftermath, serving as a sort of "spokesman for the war."
Hanegbi, who has announced his planned return to Likud, called Mofaz's war-related accusation "imaginary" and accused Mofaz of irresponsible behavior, in a Tuesday interview.
"A fascinating and truly amazing story – of course he does not say things outright – but certainly, these hints could be understood as pointing to something fictional like that," he told IDF Radio. "Mofaz said several serious things. The most serious is the attempt to create a fear that Israel is about to act in one way or another. This in itself is a very grave matter. Especially since, up until a few days ago, he stood at the Israel's decision making center, and knows things that should be kept, of course, very deep inside the heart. He cannot, within the context of a political struggle, talk in this way."
Interviewer Micha Friedman asked: Are you accusing him of revealing state secrets?
"I expect a person who was Defense Minister to show the required responsibility and not do what he did. It is simply unacceptable. I do not remember this kind of lack of self restraint and inability to show self control in the past. But besides that, of course, it was Mofaz's decision to break up the unity government that led the entire state to this chaos we are in.
Kadima responded to Hanegbi, saying that he should not "preach morality" to Mofaz, who is a former IDF Chief of Staff and Defense Minister, in matters of Israel's security.