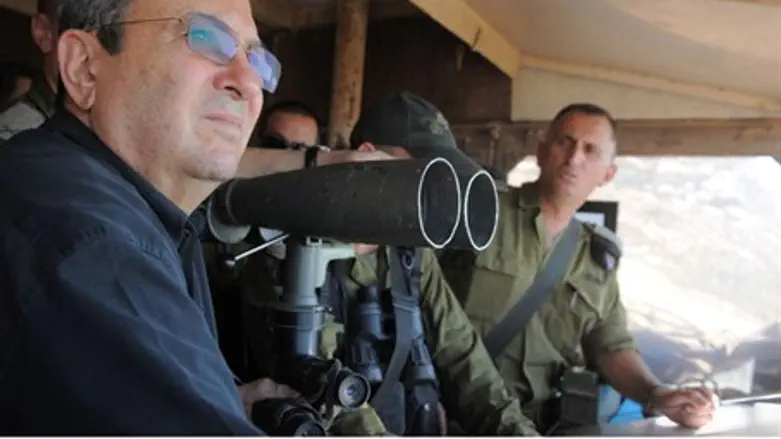 Defense Minister Ehud Barak
Flash 90
Defense Minister Ehud Barak estimated on Friday that the fall of Syrian President Bashar Assad's regime was closer than ever.
Barak's comments were made in light of reports that Assad is ready to give up power but only in a "civilized manner."
Syria's Information Ministry rejected the reports, which were made by Russia's ambassador to Paris, Alexander Orlov.
"The Syrian regime was dealt a tremendous blow below the belt this week," Barak said during a special interview with Channel 2 News. "The people closest to the President were killed and of course it's not the end. It marks the beginning of the end."
He added that toppling Assad will also badly damage what he called the "radical axis" of Hizbullah and Iran, which Barak said "are the only ones that support Assad."
On the other hand, Barak noted, there is concern in Israel that toppling the Syrian regime will allow Hizbullah terrorists to lay their hands on caches of dangerous weapons.
"Syria has advanced anti-aircraft systems, advanced ground-to-ground missiles and elements of chemical weapons," he said. "I have instructed the IDF to prepare for a situation in which we would need to consider an option of attacking."
Speaking of the terror attack in Bulgaria this week and of the funerals of the five victims which were held on Friday, Barak said, "The heart ached today. We will investigate the incident which Hizbullah is behind. This incident took place as part of a chain of attempts to harm Israeli centers of tourism."
Barak rejected the claims of the Bulgarians that it was an intelligence failure that caused the attack. Bulgarian President Rosen Plevneliev said on Wednesday that the authorities in Bulgaria held a meeting last month with representatives of the Israeli Mossad but that they did not warn the Bulgarians against a possible attack.
"There is no other country in the world which maintains such extensive intelligence activities as Israel," Barak said. "When we have information we share it. If we had information that would have stopped the attack as we did in Cyprus - we would have done it. Even the world's best intelligence organization does not always know everything about everybody."
(Arutz Sheva's North American Desk is keeping you updated until the start of Shabbat in New York. The time posted automatically on all Arutz Sheva articles, however, is Israeli time.)