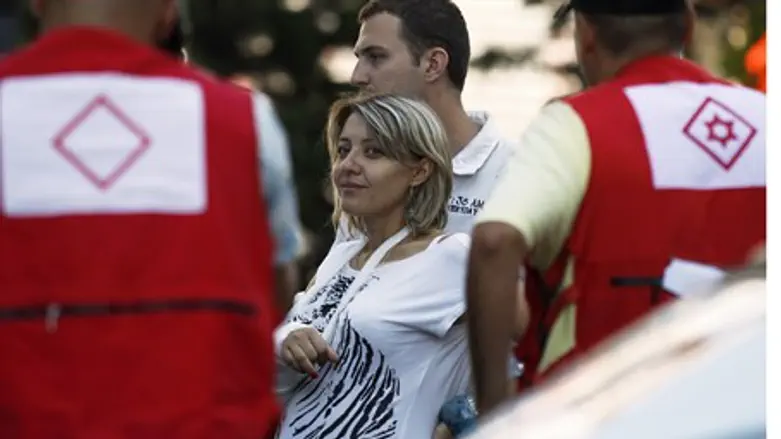 Israeli terror survivor leaves hospital in Bu
Reuters
Israelis wounded in the massive suicide bombing that killed six and wounded 32 others are set to depart for home in three hours, according to an Israeli military source, after an IAF Hercules transport aircraft touched down on the tarmac at Bulgaria's international airport just hours after had been attacked.
The bombing was carried out by a suicide terrorist, Bulgarian Prime Minister Boyko Borisov said Thursday morning, as authorities described how five Israelis and one Bulgarian national died when a bus was incinerated and a second badly burnt at the Sarafovo Airport. The terrorist was carrying a U.S. passport and driver's license from Michigan, Bulgarian officials said, which turned out to be a fake.
Earlier reports said that the bus had been blown up by an explosive device set off remotely.
The victims, who will depart from Burgas, are being organized and cared for by Israeli army medical teams that arrived on the scene.
"We have landed in Bulgaria and are starting to assemble the wounded," an IDF spokesperson told reporters. The survivors were boarding a Hercules transport aircraft during the morning hours at the Burgas airport.
They will be flown back in Israeli Air Force aircraft, and are expected to arrive at Ben-Gurion International Airport on Thursday afternoon.
Among those caring for the victims are some 30 officers and soldiers. Included in the teams are trauma experts, surgeons and anesthesiologists who will care for the patients until they arrive in Israel.
According to Bulgarian sources, 32 Israelis were wounded in the attack. The most seriously injured will be transported by Israeli medics to a hospital in Sofia, Bulgarian media reported.