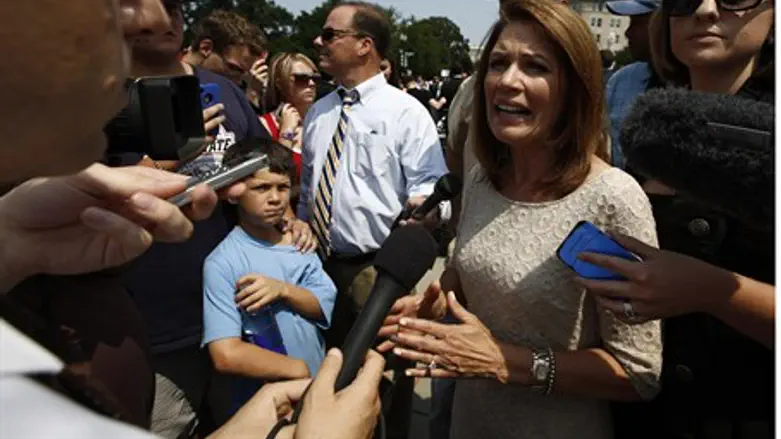 Michele Bachmann
Reuters
Michele Bachmann, former Republican presidential contender and representative of Minnesota's 6th congressional district, challenged President Barack Obama's record on Israel during her keynote address at the 7th annual Christians United for Israel (CUFI) national summit in Washington, DC. Her address took place on Tuesday evening, July 17th at the organization's "Night to Honor Israel" program.
Speaking to an audience of over 5000 at the Washington Convention Center, Bachmann underscored that the threats to Israel's survival are radical Islam, the escalating nuclear agenda of Iran and the adversarial treatment of Israel by the current US administration.
"Israel lives in a very tough neighborhood and this is precisely why Christians must stand with Israel," she declared, castigating Obama for inviting Egypt's new president Mohammed Morsi to the White House and for his "embrace" of the Muslim Brotherhood parliament of Egypt and reminding him that "the goal of the Muslim Brotherhood is the demise of America."
Quoting Morsi on Jerusalem, she said to thunderous applause, "He wants Jerusalem to be the next capital of Egypt and we tell that the world, that never, ever will the eternal capital of the Jewish people become the capital of Egypt."
Taking President Obama to task for "demonstrating weakness on the Iranian nuclear issue", Bachmann said, "I would remind you that in 2008, when Iran was well on its way to building a nuclear arsenal, our president agreed to engage in face-to-face negotiations with them without any preconditions. In his speech in Cairo, the president said that Iran should have peaceful use of nuclear power. We must never countenance a nuclear Iran."
With regard to Ahmadenijad, Bachmann said, "If we've learned anything over the last 100 years, it is that when a madman threatens the annihilation of the Jewish people, we have to listen to him, to pay attention and to take action."
"This is the first administration since Israel's re-birth in 1948 that has not supported Israel unwaveringly," observed Bachmann. "Israel must be respected and America has willingly emboldened the Palestinians by pledging support to Hamas. Article 7 of the Hamas constitution calls for the murder of all Jews. The Palestinian Authority must renounce terrorism and until such time, we should stop sending them US taxpayer money,".
Bachmann, quoted from the book of Genesis when she said, "G-d blesses those who bless Israel and curses those who curse Israel." Reminding her audience of Moses sending spies to the land of Israel while the Jewish nation was in the desert of Sinai, she said, "10 men scouted out the land and came back with reports of giants and ferocious conditions and attempted to dissuade Moses from leading the people into this land. They said they felt like grasshoppers next to the giants and they were utterly defeated. It took two men, Joshua and Caleb to say 'we can do it'; we must be strong and courageous just like them."