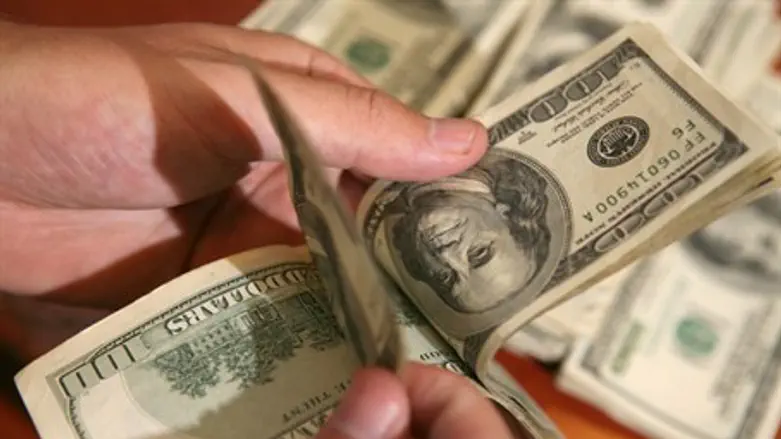 US dollars
Israel news photo: Flash 90
Bank of Israel Governor Stanley Fischer is laughing all the way to the bank. Critics condemned him two years ago for buying billions of dollars when one dollar was worth 3.3 shekels. Today (Monday), the dollar-shekel rate is almost NIS 3.99, the highest in more than three years.
Only last year, when the rate was 3.4 shekels, analysts were talking about its going lower, and exporters were whining that they were losing profits because of the lesser amount of shekels they received after converting dollars.
In a similar situation two years ago, analysts were predicting the shekel would strengthen to three to a dollar because of Israel's robust and stable economy.
Fischer stepped in and bought billions of dollars to keep the dollar-shekel rate from sinking. The purchases had little immediate effect, and critics condemned Fischer for wasting money.
"The way that the Bank of Israel chose to intervene in the foreign exchange market, at first by buying $25 million a day, was ridiculous," wrote a columnist in Israel's Globes business newspaper.  
In October 2008, with speculators buying huge amounts of shekels on the assumption it would continue to strengthen, Fischer ordered the unprecedented purchase of more than $1 billion in three days. The shekel-dollar rate barely budged.
Fast forward three years to July 16, 2012: With the dollar-shekel rate at almost NIS 3.99, Fischer is sitting on billions of dollars in paper profits and can sell off dollars at will if he wants to try to keep the rate from soaring past 4 shekels.
Factors working in favor of the dollar are the weaker Israeli economy, compared with two years ago, a drop in exports, and the smaller gap between interest rates in the United States and Israel. The Bank of Israel lowered the interest rate for this month by a quarter of one percent.