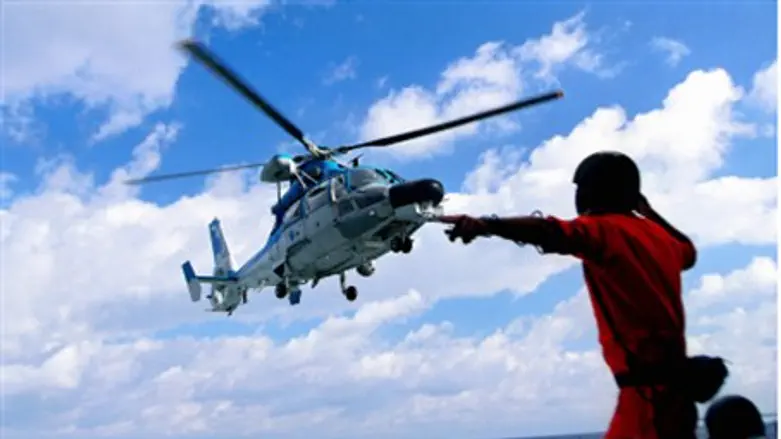 Helicopter lands on Sa'ar 5 corvette.
Israel news photo: Flash 90
The Commander of the Greek Navy, Vice Admiral Kosmas Christidis, concluded his first visit to Israel Thursday, hosted by Commander in Chief of the Israeli Navy, Vice Admiral Ram Rutberg.
 In the course of his visit, Vice Admiral Christidis sailed on an Israel Navy Sa'ar 5 Class corvette. He received security and strategic briefings from senior navy officers, and discussed with them the cooperation between the Israeli and Greek navies.
The admiral was welcomed by an honorary Navy guard at the Haifa Navy Base. He also visited Yad Vashem, Israel's official Holocaust memorial, where he placed a wreath in memory of the victims.
 Vice Admiral Rutberg noted that the visit emphasizes the strong cooperation between the navies, adding that he sees great significance in preserving this relationship.
As Israel's relations with Turkey cooled over the past few years – its relationship with Greece, including security cooperation, has warmed up. Israeli, Greek and American aircraft held a joint drill earlier this year, reportedly in preparation for a possible war over Israel's huge off-shore gas discoveries. 
However, the electoral success of a neo-Nazi party has Greek Jews concerned.