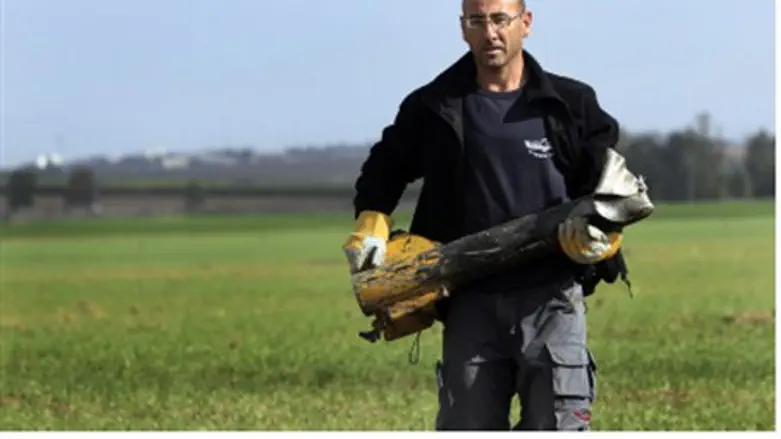 Retrieving Qassam from an open field
Israel news photo: Flash 90
Palestinian Authority Arab terrorists launched an attack from Gaza Monday afternoon against residents of the Negev, in southern Israel. 
The anti-tank missile was aimed at a group of Israeli farmers working near the Gaza border. It exploded in a field near the farmers and their equipment, next to the security fence at a kibbutz in the Eshkol district.
No one was physically injured, although several people suffered anxiety and those with post-traumatic stress disorder (PTSD) had symptoms triggered as a result.
No property damage was reported, according to officials. 
The remains of an exploded rocket were also found Monday in an open area of the Eshkol Regional Council district. Officials did not report any physical injuries or property damage.
Further north, PA Arabs hurled rocks in a roadside attack on Israeli motorists traveling on Highway 60, just past the Gilo neighborhood in southern Jerusalem. 
No one was injured in the attack, and none of the vehicles were reported damaged. Israeli soldiers fanned out across the area to search for the attackers.