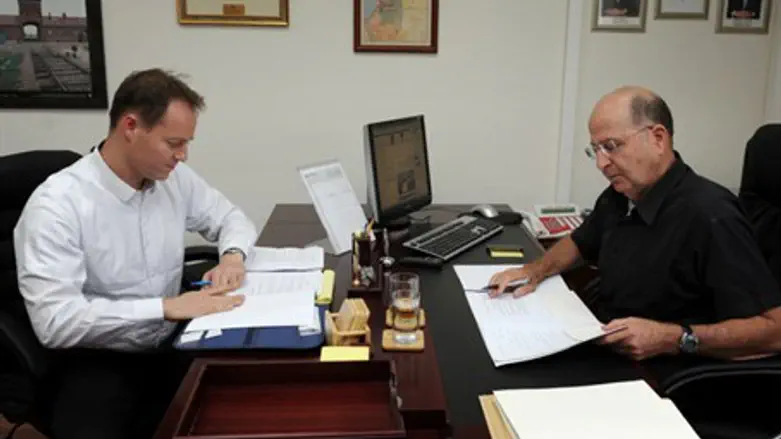 Plesner and Ya'alon meet
Flash 90
Deputy Prime Minister Moshe Ya'alon and MK Yohanan Plesner (Kadima), who were appointed to head a team to formulate a new draft law, held a first meeting in Jerusalem on Sunday evening.
Sources close to the two told Army Radio that the meeting was positive and that it dealt mainly with an introduction and an overview of the Plesner Committee's report. The two reportedly agreed to meet again on Monday and begin drafting the new bill.
After the meeting, Ya'alon said that "there is a chance to change history, but we must do so in a responsible manner, without causing a rift among the people."
Plesner headed a committee that was on the verge of proposing a revolutionary change in the draft law to include virtually all Jews who previously were deferred from serving in the IDF in order to continue studying Torah.
The committee fell apart when representatives of several parties resigned over its conclusions, and Prime Minister Binyamin Netanyahu officially dissolved the panel last week.
Plesner nevertheless announced his recommendations and the ensuing political storm emboldened Kadima Chairman Shaul Mofaz to issue an ultimatum to Netanyahu that he would pull his party out of the national unity coalition unless the Prime Minister agreed to adopt Plesner's recommendations.
Plesner's draft bill focuses on sanctions against hareidi-religious Jews who do not enlist but was less specific concerning Arabs. Likud MKs filled the gap by accepting Plesner's proposals "in principle" but adding that the issue of Arabs must be addressed more directly.