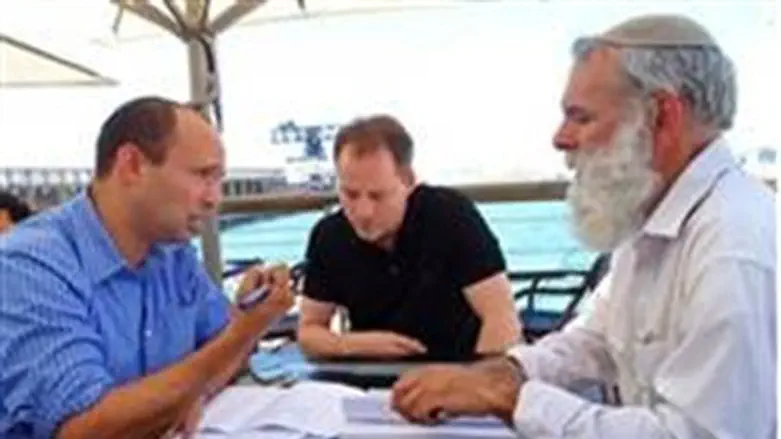 Jewish Home seeks compromise
PR photo
Some of the newest members of the religious-Zionist Jewish Home party have yet to enter the Knesset, but are already taking the lead. Former CEO of the Council for Judea and Samaria Naftali Bennet, former IDF Chief Rabbi Avichai Ronsky and former head of Bnai Akiva Motti Regev have been working hard in recent days to help hareidi and secular leaders come to a compromise on hareidi enlistment in the IDF.

They are creating a proposed program dubbed Voluntary Enlistment (Mitgayesim B'haskama) that includes key components of both hareidi leaders' requests and the findings of the Plesner Committee for Equal Share in the Burden.

The Jewish Home party is the natural mediator, Rabbi Ronsky said. "The religious-Zionist community puts into effect the ideological integration of IDF service with recognition of the value of Torah study," he said. "We believe that Torah study is something the entire nation of Israel must do, not only one sector, and at the same time, we believe that military service is a mitzvah [positive command] in itself, with value in terms of defense, society, and Torah observance."

"Our experience as religious people serving in the army makes our community able to bridge between the various sectors of Israeli society," he added.

Among the compromises proposed is an increase in the number of hareidi young men who would get an exemption from service to study Torah. The number would be raised from 1,500 each year (the level recommended by the Plesner committee) to 1,800.

Personal sanctions on those who do not serve would include ineligibility for housing benefits and a municipal tax reduction, but would not include limits on eligibility for other state benefits. Those who do not enlist would also lose their 850 shekel-a-month kollel stipend, in a move aimed at removing the yeshivas' financial incentive to keep students out of the army.

The Voluntary Enlistment plan would not impose criminal sanctions for draft dodging, unlike the Plesner plan, which suggested giving draft dodgers a criminal record. It includes a version of the fine proposed by the Plesner Committee, but on a smaller scale.

Bennet expressed hope that the compromise deal will salvage a rare opportunity to create a real solution. "Netanyahu missed a historic opportunity when he dissolved the Plesner Committee," he said.

"The compromise we are putting together will weaken the militant, fiery statements from the extremists on both sides, and therefore will be able to be implemented," he added.