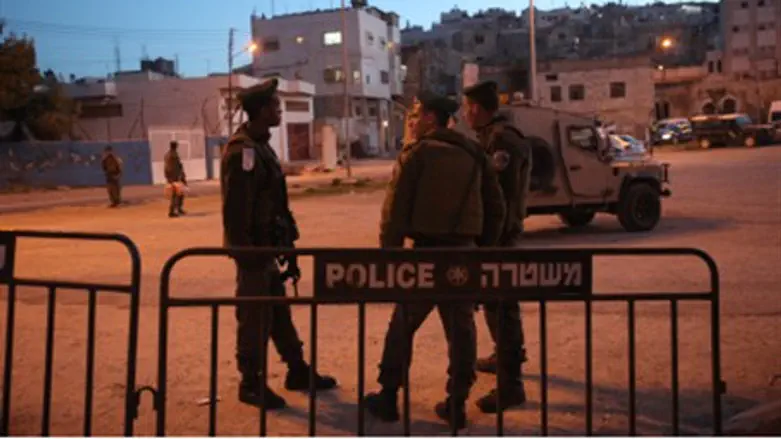 Soldiers in Hevron
Israel news photo: Flash 90
IDF soldiers arrested an Arab man in Hevron on Tuesday after they caught him carrying a knife.
Local residents told the Bethlehem-based Ma'an news agency that Ameer Zahdeh, 21, was seized in Shuhada Street in central Hevron.
The IDF spokesperson's office said soldiers conducting a routine inspection of the area caught him carrying a knife.
He was transferred to the custody of the General Security Services for questioning.
Attacks by local Arabs targeting IDF personnel have sharply risen in Hevron since the beginning of the year.
On March 8, an IDF soldier was stabbed in the neck by a knife-wielding terrorist in Hevron. The soldier, moderately injured, survived and succeeded in killing his assailant.
An Israeli Border Police officer was also critically wounded by a knife-wielding terrorist in Hevron on May 5. His assailant was shot and critically wounded.
Meanwhile, rock throwing incidents targeting Israeli soldiers and border police officers have spiked in the past month.
In May, Israel's security services cracked a triad of Hamas terror cells that were operating in the Hevron area.
The cells had carried out rock and bombing attacks, and were planning the kidnapping of Israeli citizens – or their murder, should the kidnappings fail.