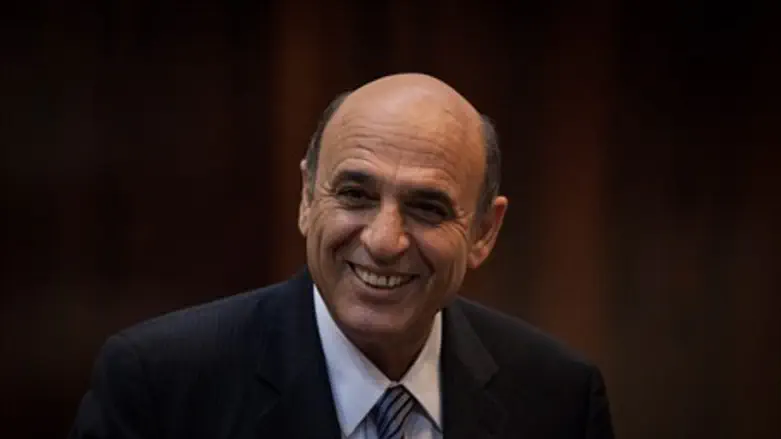 Shaul Mofaz
Flash 90
The heads of the "suckers'" movement, who are calling for all Israelis to equally share in the burden, on Monday called on Minister Shaul Mofaz to quit the coalition and bring about elections in which the main issue will be equal burden.
"It's time for you to demonstrate leadership - resign from the government and lead Israel to elections where division of the burden will be the main issue," they wrote in an open letter to the Kadima chairman.
The call on Mofaz to quit the government came after Prime Minister Binyamin Netanyahu scrapped the Plesner Committee headed by Kadima MK Yohanan Plesner, which was tasked with drafting a replacement for the controversial Tal Law.
Mofaz responded by threatening to quit the government if Netanyahu did not follow through with the committee's recommendations.
"I reject the announcement of the prime minister and pledge my full support to Plesner's committee," Mofaz said.
"The committee was formed by all the parties together, and its unilateral dissolution by the prime minister does not obligate Kadima [to accept the decision]."
Plesner said he would release his committee's findings on Wednesday, despite Netanyahu's declaration that the committee had been disbanded.
"We did a thorough job and I believe we have made history on the matter of equal service," Plesner said, adding, "Apparently some people would rather not hear these results, but we will not let anyone stop us from releasing them."
"I spoke with the committee's members and we intend, as was originally planned and as we said in a letter to the prime minister today, to present the panel's conclusions on Wednesday," Plesner said.
Plesner's committee had fallen apart after several key members resigned from it within a period of several days. On Sunday, Attorney Yaakov Weinroth announced that he is quitting the committee, where he represented Shas and United Torah Judaism. Weinroth said the committee had acted irresponsibly by opting to solve a delicate problem through "forceful" measures.
Last week, Yisrael Beytenu, a major partner in the governing coalition, announced it is quitting the Plesner Committee, because the committee has said it will not demand punishment of Arab citizens who shirk from service, recommending sanctions only on hareidi service evaders.
The Jewish Home party, headed by Minister Daniel Hershkowitz, also announced it would leave the committee.