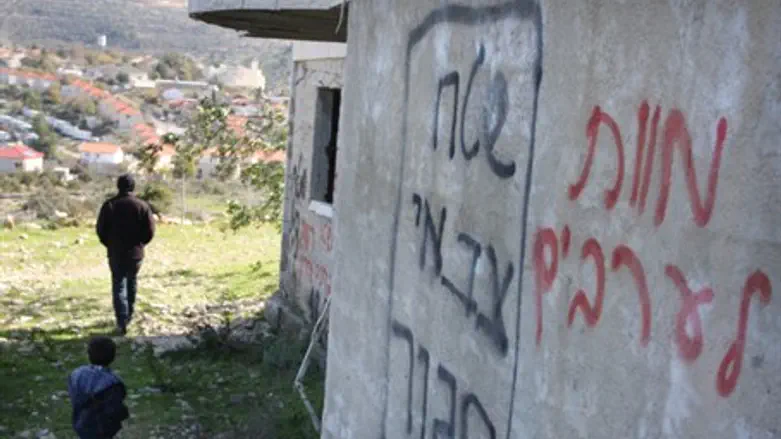 Price tag
Flash 90
An IDF soldier was dismissed on Monday from a company commanders' course after he refused to participate in an ambush meant to catch perpetrators of "price tag" incidents.
The soldier, who served in the Kfir fighter unit, was asked last week along with his fellow soldiers to lie in ambush near a Jewish neighborhood in Hevron, where military officials believed price tag incidents were being planned. The ambush took place one day before the eviction of families from the Ulpana neighborhood in Beit El.
The soldier, a resident of the Binyamin community of Kochav Yaakov, informed his superiors that he would rather not participate in this activity because, as he put it, he was not recruited to the IDF to arrest Jewish residents of Judea and Samaria but rather to help the people of Israel and fight enemies. He was put on trial and it was decided to dismiss him from the course, despite the fact that he was considered an outstanding soldier.
MK Dr. Michael Ben Ari (National Union) condemned the decision, saying, "It is unfortunate that [Central Command commander] Nitzan Alon and the IDF commanders have not learned any lesson from previous incidents of refusal by members of the Kfir unit. The soldiers must not be made to confront their fellow settlers. Sending soldiers to arrest settlers creates polarization and divisions between segments of the population. That's not why they were recruited to the IDF."
The IDF Spokesperson's Unit said in response to the incident that "given the gravity of the event, which is inconsistent with the accepted norms in the IDF and with the norms expected from a future commander, it was decided to immediately dismiss the soldier from the commanders' course. The soldier will return to his brigade and it will later be decided how he will continue his service."