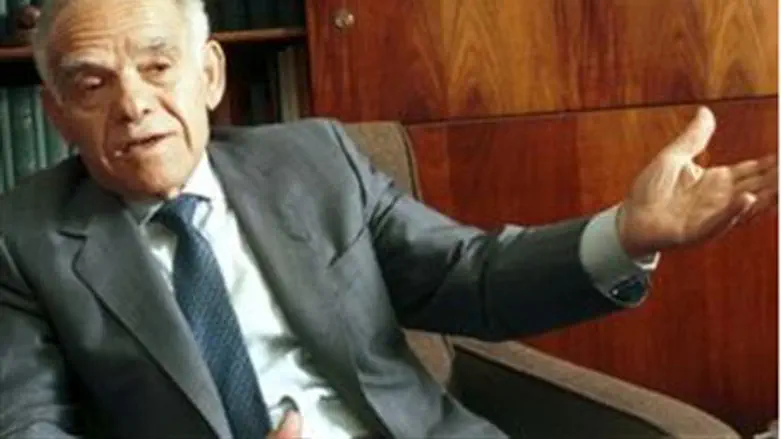 Yitzchak Shamir
Flash 90
Yitzchak Shamir, Israel's seventh Prime Minister, has passed away at the age of 96. Born in 1915 in Belarus, Shamir passed away on Shabbat. His funeral is expected to take place on Monday.
Shamir was Prime Minister of Israel twice, in 1983-84 and 1986-92. He presided as head of the nation over numerous important events in Israeli history, most notably the Gulf War, in which Israel was attacked by dozens of Iraqi Scud missiles. Shamir acceded to demands by the United States that Israel not respond to the Iraqi attacks, lest the coalition of Arab nations aligned against Saddam Hussein disband.
Shamir also ordered the massive airlift of Ethiopian Jews in 1991, known as Operation Solomon.
Shamir's government collapsed after several parties left the coalition as a reaction to Israel's participation in the Madrid Talks, peace negotiations in which he stood his ground despite  American pressure. 
Shamir made his reputation as a leader in the days before the state's establishment, with his participation in the uprising against British control of the Land of Israel. In 1940, he joined the Lehi (National Military Organization), and was arrested in 1941 for his activities against the British. He was exiled to Africa by the British in 1944, and fought against the Arabs with the Lehi for the independence of the State. After the establishment of the State, he served in the Mossad for ten years.
In 2001, he won the Israel Prize for his heroic activities on behalf of Israel.
In a statement, Prime Minister Binyamin Netanyahi said that Shamir was "a member of the generation of giants that established the State of Israel and fought for the freedom of the Jewish people in its land. As Prime Minister, Yitzchak Shamir acted to ensure the security of the State of Israel and its future, and was a sterling example of faithfulness to the future of the Jewish people." Netanyahu said in the statement that he "expressed deep sadness over the death of Yitzchak Shamir."