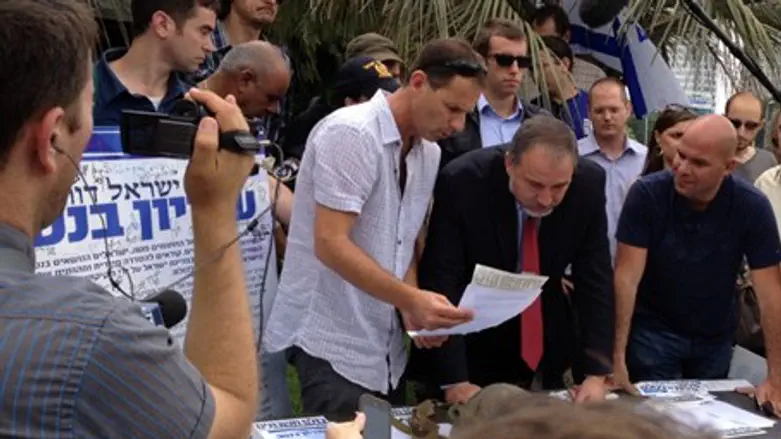 Lieberman visits the suckers tent
PR photo
Foreign Minister Avigdor Lieberman, chairman of the Yisrael Beytenu Party, visited the "suckers tent" in Tel Aviv on Tuesday, where he signed a petition calling for equal army service for all Israeli citizens.
The 'suckers tent' is made up of individuals who were opposed to extending the Tal Law, which regulated the exemption of hareidi soldiers from enlisting in the IDF, and attempted a gradual increase of hareidi army service.
The Tal Law was annulled by the Supreme Court after the judges, under former Court President Dorit Beinisch, struck it down as unconstitutional. A committee, headed by MK Yohanan Plesner (Kadima), has been charged with coming up with a new formula for conscripting hareidim into the military. The committee will present its conclusions in several days and then a new law will be brought before the Knesset for a vote.
"I think it's a crucial moment for our society," Lieberman told Arutz Sheva during his visit to the tent. "It's the first time that we have all the conditions for this legislation. This legislation is important for both the Arab minority and for the Orthodox Jews to create one society."
Lieberman expressed his hope that "next week, all the members of the coalition will vote for this law. Our commitment is very clear: All of our ministers, deputy ministers and members of Knesset will vote for this legislation."
He would not answer the question of whether Yisrael Beteynu will leave the government if the law does not pass, saying only that "if we vote in favor of the law and Kadima votes in favor of the law - the law will pass. We've really created here a special constellation where both the coalition and some members of the opposition are all united, as is the public. This is really a unique opportunity; the public should know that the politicians are serious and that their word means something."
Boaz Nol, one of the leaders of the suckers protest, told Arutz Sheva that Lieberman gave the protesters "a very straight commitment" that by July 31 the government "will bring a law calling for equal service for all."
Nol said he does not expect to see police going through hareidi neighborhoods and forcing hareidim to enlist, saying, "I expect that the government will be in charge of creating the special units and the special platforms that will allow every citizen – whether he's religious, secular, Arab, Russian, Ethiopian, gay, straight – to do something. Everybody will serve, be it in the army or in the civil service."
The religious parties have announced that they intend to form a common front in opposing the recommendations of the Plesner Committee.
Defense Minister Ehud Barak suggested to the Plesner Committee that ten percent of hareidi men be allowed to continue learning Torah under the new arrangement. The other 90 percent would enlist in the military or, if ineligible for military service, perform national service.