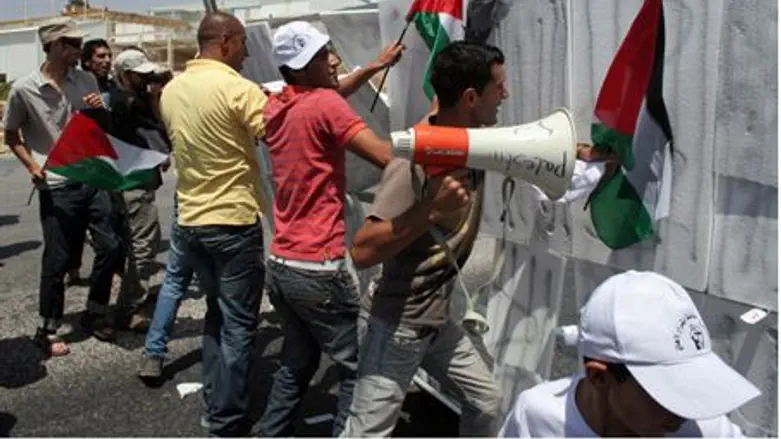 Anti-Israel demonstration (illustrative)
Israel news photo: Flash 90
The Jewish Federation of Greater Los Angeles cancelled a Sunday morning lecture by controversial author and activist Pamela Geller, citing security concerns that the building might be stormed by Muslim activists.
Geller, known for her opposition to radical Islam, was invited by the Zionist Organization of America (ZOA) to speak on the topic of "Islamic Jew-Hatred: The Root Cause of the Failure to Achieve Peace."
News of the event sparked outrage from a Muslim Interfaith coalition.
"Religious leaders and institutions have an increased and urgent responsibility to promote tolerance and mutual understanding among all Americans, instead of giving aid and comfort to fear-mongers like Geller," coalition officials said in a written statement.
The Jewish federation announced about an hour before Geller's scheduled 11 a.m. address that she would not appear.
"Today's event by the Zionist Organization of America that was to have taken place at The Jewish federation building and feature Pamela Geller has been cancelled," federation Senior Vice President Mitch Hamerman said in a written statement.
"I think it was a disaster.  Zionism is not welcome at the LA Jewish Federation," she said in an interview with The Algemeiner. "It was almost a historical moment where they would cave to a group who is affiliated with Hamas," she said, referring to reports that the Council on American-Islamic Relations, which has been linked to the terrorist group by the U.S. Congress, was responsible for the event's cancellation.
According to The Los Angeles Times, CAIR representative Hussam Ayloush said his group will not be affected by people like Geller.
"We will not be affected by the noise of people who hopefully become more and more irrelevant," Ayloush said. "Unfortunately, outrageous rhetoric gets attention because it's outrageous, and Pamela Geller knows that very well."
Klein said that officials from the Federation have apologized to the ZOA for the cancellation.
"They called and told us they made a mistake," he said.
"We have nothing against the Federation. They do important work and they help Israel," Klein added, according to The Algemeiner.