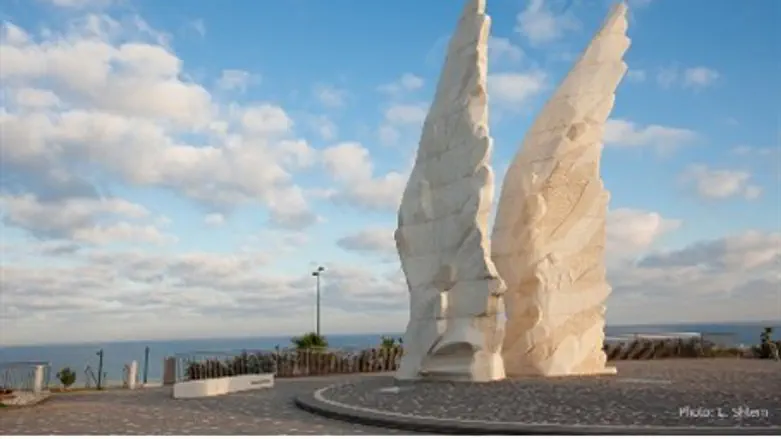 New Red Army Monument in Netanya
Puder PR photo: E. Shtern
Russian President Vladimir Putin is scheduled to attend the unveiling of a Red Army World War II Victory Monument in Netanya Monday.
The 'Victory Monument', an unprecedented joint-state venture between Israel and Russia, also honors the more than half a million Jews who fought with the Red Army during WWII.
The design of the monument was the first-ever joint initiative between Israel and Russia to commemorate the Red Army.  Keren HaYesod – UIA and the World Forum of Russian Jewry led efforts to raise funds for the project.
A world-class design commemorating the Red Army's victory over Nazi Germany in WWII, the monument honors millions of Red Army soldiers who perished in the war, among them 120,000 Jews.  More than half a million Jewish soldiers fought with the Red Army in WWII against the Nazis.
Alexander Levin, president of the World Forum of Russian Jewry and an American citizen, will represent Russian-speaking Jews from North America at the ceremony.
"Millions of Russian Jews around the world are united at this moment in solidarity for the brave Red Army soldiers," said Levin, one of the main supporters of the monument. "I am proud to be part of those who support the building of this special monument, particularly as the sole representative of the United States and the millions of Russian-speaking Jews who reside there."
Prime Minister Benjamin Netanyahu proposed the idea of the monument to President Putin two years ago during his visit to Moscow. Putin complied and promised to come to Israel for the inauguration ceremony.