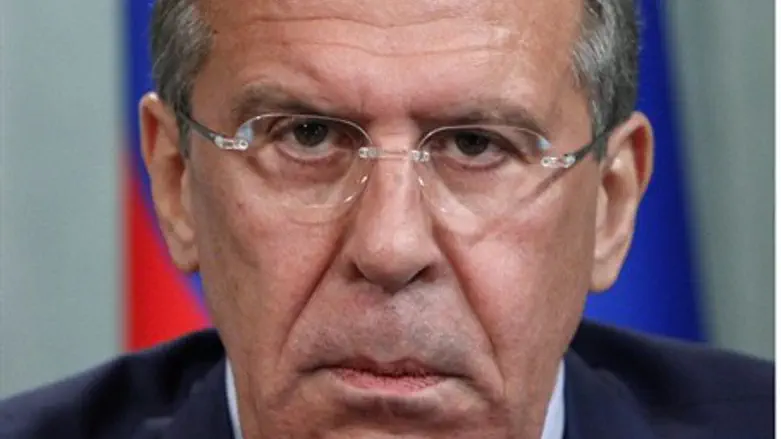 Sergey Lavrov
Reuters
Russia's foreign minister said on Friday that Iran should not face threats over its nuclear program and that a quick settlement of the standoff over it isn't realistic.
The Associated Press quoted Foreign Minister Sergey Lavrov as having said the latest round of talks in Moscow this week between six world powers and Iran has been "quite useful," even though there was no breakthrough. He said talks must continue without "any artificial deadlines or ultimatums."
High-level nuclear talks in Russia between Iran and six world powers were suspended this week, but experts from both sides will meet next month to see if there is enough common ground for new negotiations.
AP noted that Russia's President Vladimir Putin is expected to face a strong Israeli demand to take a tougher line on Iran when he visits the Jewish state next week, but Lavrov's statement signaled that Moscow will likely respond to Israeli calls for stronger action with its usual advice to be patient and continue talks.
"In order to settle the issue, it's necessary to refrain from constant threats of using force, abandon scenarios aimed against Iran, and stop dismissing the talks as failure," Lavrov was quoted as having said on Russia's Rossiya 24 television.
He said the international talks must not be dragged out, but that it would be wrong to "put forward any artificial deadlines and ultimatums and say that if there is no final agreement by the end of July or August — and there simply can't be any in such a (short) period — then we will end talks and launch some kind of bellicose actions."
The failed talks in Moscow followed a bruising session in Baghdad in May that failed to make any noticeable progress beyond agreeing a date for more talks.
In a hint of compromise, Iranian President Mahmoud Ahmadinejad said on Monday that Iran is ready to suspend its controversial enrichment of uranium to 20 percent if Europe guarantees delivery of nuclear fuel for its reactors.
Former Kadima MK Tzahi Hanegbi criticized this week the United States and its conduct during the negotiations with Iran on its nuclear program.
Hanegbi, formerly the chairman of the Knesset's Foreign Affairs and Defense Committee, accused the United States of taking part in meetings aimed at wasting time and creating a false impression.
U.S. Secretary of State Hillary Clinton warned this week that some in Iran "are saying the best thing that could happen to us is be attacked by somebody, just bring it on, because that would unify us, it would legitimize the regime."
Clinton made the remarks in an interview with Charlie Rose on Wednesday. The interview was a joint interview with former Secretary of State James Baker, who said that only the United States – not Israel – would be able to stop Iran from obtaining a nuclear weapon.
At a meeting with Clinton in Washington on Wednesday, Vice Prime Minister and Kadima head Shaul Mofaz said that it was imperative that Iran's nuclear program be stopped, and that no option should be taken off the table.
"After the failure at the third round of talks with the Iranians in Moscow, it is time for the United States and the Western powers to impose more severe sanctions in the oil embargo and financial sectors in order to stop Iran's nuclear development program," Mofaz said at the meeting. He added that in addition to these measures there is a need "to continue to prepare all of the other options."
Agreeing with Mofaz was former British Prime Minister and current Quartet Middle East envoy Tony Blair. In an interview on ArmyRadio Thursday, Blair said bluntly that "all options, including the military option, are still on the table. All these options are terrible," Blair said, "but Iran cannot be allowed to go nuclear.
(Arutz Sheva's North American Desk is keeping you updated until the start of Shabbat in New York. The time posted automatically on all Arutz Sheva articles, however, is Israeli time.)