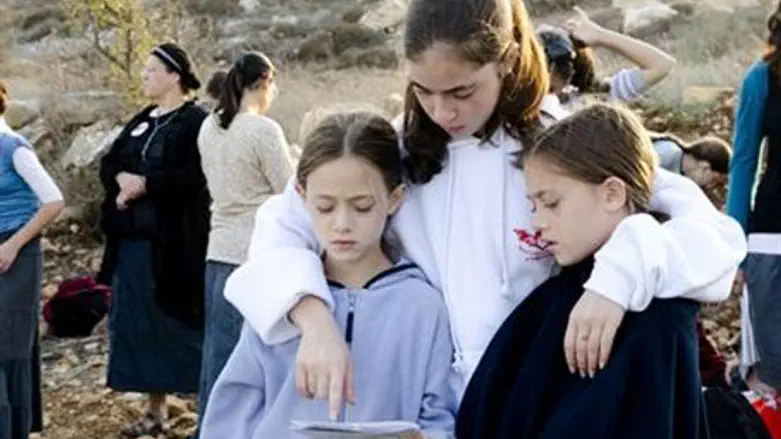 At Givat Assaf
Hillel Meir
The State Attorney's Office (SAO) asked the High Court Friday to give it a seven months' extension to formulate a reply to a motion by Peace Now demanding the demolition of the Givat Assaf neighborhood near Beit El.
The SAO noted that a Ministerial Committee for Settlement in Judea and Samaria was established recently. It explained that the committee was created in order to reformulate the government's position on unregulated construction in the region.
"Recently, substantive new data about Givat Assaf, which is germane to the matter, has been received, and it requires examination and clarification," the SAO stated. "If other conditions are met, these things could lead to a peaceful resolution of the Givat Assaf problem."
"The political tier wishes to deal with this matter and to discuss the subject of Givat Assaf in one of the upcoming sessions of the Ministerial Committee. Under these circumstances, the respondents ask for a postponement until February 1, 2013, in order to update the honorable court regarding developments."
Government policy, formulated by the Civil Administration of \Judea and Samaria under the Likud, as stated in the hearings on the Ulpana houses on which a compromise was reached this week, had been that houses on state land would be authorized, but that houses on private or unclaimed land would not.
This did not take into account land purchased from private Arab owners and was the main cause for the state's agreeing with last year's ruling to destroy the Ulpana houses - until the date approached and the state's lawyers realized that this was an established neighborhood with a contested purchase (a claim that the seller was fraudulent).
This led to a demand to redefine government policy and .to establish a committee, rather than leave crucial issues on Judea and Samaria construction in the hands of the [possibly politically motivated] Defense Minister and the government's legal department. In the agreement reached on the Ulpana houses, this demand was met.