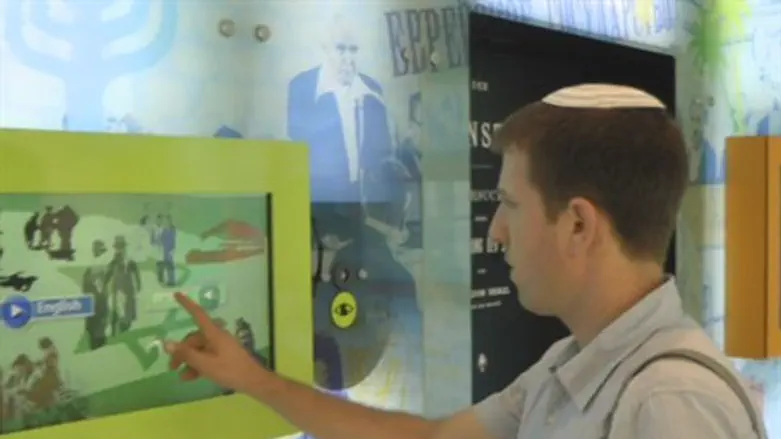 Arutz Sheva's Yoni Kempinski at the interacti
Yoni Kempinski
The Herzl Museum, located on Mount Herzl in Jerusalem, revealed on Wednesday the first interactive Zionist wall. It was revealed during the opening ceremony of the Presidium of the Zionist General Council (World Zionist Organization). Arutz Sheva's Yoni Kempinski was there.
The interactive wall is meant to enrich the study of Zionism and provides up-to-date information on the history of Zionism, from its inception until today, as well as information about the work of visionary Theodor Herzl. 
The wall allows for experiential encounters and studies that enrich and strengthen Jewish Zionist identity and the feeling of closeness to Israel. It is particularly visual, rich in pyrotechnics, sound effects, well-known texts, newspaper articles, fascinating discussions, and features special moments in the lives of Zionist leaders.
"It's kind of like walking inside a giant iPad," said Dr. David Breakstone, Vice Chairman of the World Zionist Organization, about the interactive wall. "There are seven large interactive touch screens on the walls, there are computer stands that are also touch screens. There are computer games that people can play with one another. It's completely high-tech using the most advanced technological learning tools that we have today."
He explained that the new technology is an important part of the World Zionist Organization's goal to present Herzl "as a visionary whose vision continues to be compelling and engaging."
"We've discovered that the best way to do that is to go back to the sources," said Dr. Breakstone. "The new educational center allows the visitor to deal with the same issues, the same questions, the same problems that Herzl had to deal with 100 years ago – of course in a different context."
Some of these issues include anti-Semitism, the meaning of the land of Israel, questions of territories such as Judea and Samaria (Yehuda and Shomron) and the Jewish building in them, and how to express Judaism in the Jewish State.
The visitors to the learning center do not find the answers at the center, said Dr. Breakstone, but rather are "compelled to think about the answers and discuss. There's a lot of stimulus there. It's asking the questions. It's not giving the answers. It's providing a lot of background information for people so that they have the tools and the knowledge to form their own opinions."