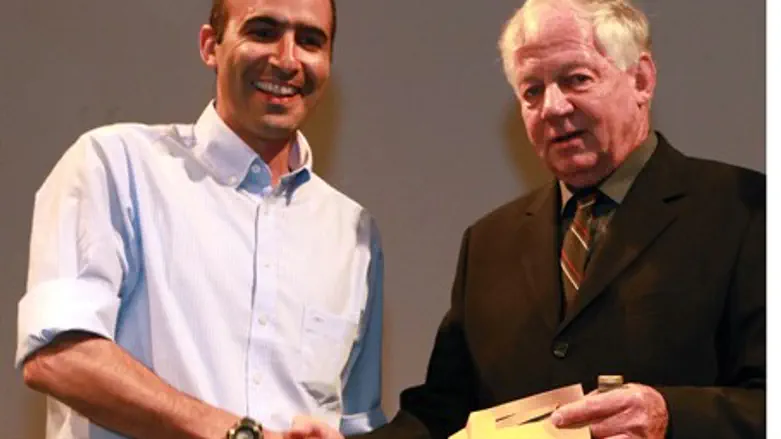 Oz Ben Saadon receives prize for Tura
Shomron Regional Council
A Samaria (Shomron) vineyard has won the "Oscar Award of Wine" in Israel's annual Golden Grapes competition.
The Tura vineyard in the settlement of Rachelim won both the gold and the silver medals in the annual Eshkol HaZahav – the Golden Grapes – competition. 
The prestigious award has been dubbed by international connoisseurs as  "the Oscar of wine."
This year's competition saw 63 of Israel's finest vineyards vying for the award, bestowed by a panel of judges after the selection was made in a blind taste test. The tasters included a wide variety of professionals from across the spectrum, including vintners, winemakers, a wine journalist, wine servers and other wine experts.
Tura won the gold for its NIS 110 bottle of Merlot, the category which saw the heaviest competition. In the wine blend category, the vineyard won a silver medal for a  blend that carries a price tag of more than NIS 130 per bottle.
There are seven wineries in the Samaria (Shomron) region alone, noted Regional Council head Gershon Mesika. He congratulated winners Vered and Oz Ben Sa'adon on their achievement, noting that "the ground returns the love that you built... Medals and prizes for the wines of Shomron are the best answers to the smears and slander against our region. We are pleased to recreate the wine renaissance of Israel in Shomron!"