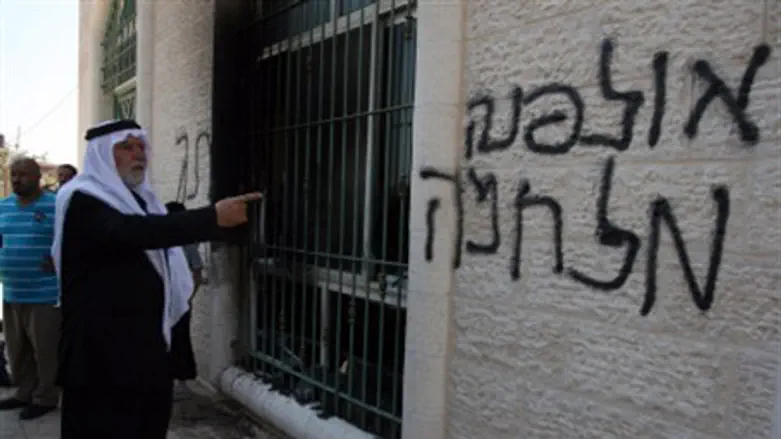 Graffiti sys: "Ulpana -- War"
Israel news photo: Flash 90
MK Aryeh Eldad (National Union) said Tuesday that Prime Minister Binyamin Netanyahu bears some of the blame for the alleged "price tag" attack against a mosque in the town of Jabba, not far from Beit El.
Although similar attacks in the past are believed to have been Arab provocations, MK Eldad seemed certain that this time, Jews had carried out the attack – out of frustration over Netanyahu's decision to plow ahead with the demolition of 33 homes in the Ulpana neighborhood.
"The Prime Minister said that destroying the Ulpana neighborhood is a decree that the public cannot stand," Eldad said during a plenum session in which parliamentarians are allowed to make one-minute speeches. "When he said this, he must have taken into account that part of the public against which this decree was made will behave in the way people act in such situations – in an irresponsible, criminal, immoral way… as people who have been backed into a corner and have nothing left to do…"
Knesset Speaker MK Reuven Rivlin (Likud) objected to MK Eldad's argument. "It can be inferred from what you said that when something bad is done to Jews in the Land, immediately something bad can be done to Arabs in the Land. You, as a leader, should say that as one who is sovereign in this land, it is my duty to make sure, before all other things, that one evil is not used to justify another."
Minister Michael Eitan (Likud) also chided Eldad. "MK Eldad should take back what he said… becaue he is saying in essence that the settlers in Yesha (Judea and Samaria) are the ones who burn mosques when there is an action that they do not like. In this he is mistaken, he misleads others and he besmirches the settler population in Judea and Samaria with deeds that the vast majority of residents are opposed to."