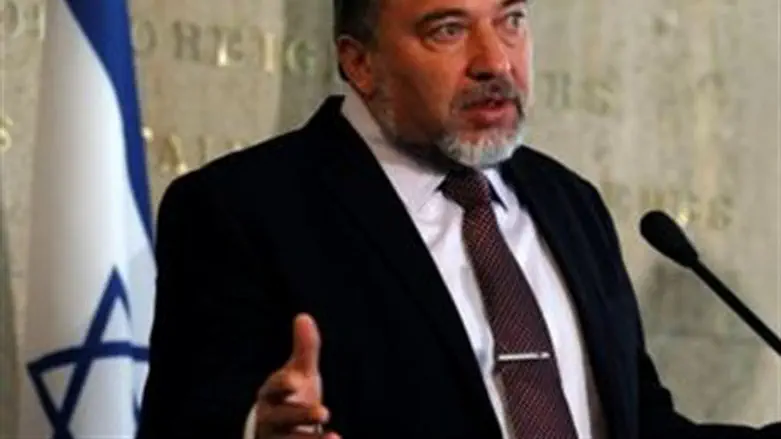 Foreign Minister Lieberman
Reuters
Speaking at a press conference Monday, Foreign Minister Avigdor Lieberman said that Israel narrowly avoided a repeat of the Gilad Shalit kidnapping on Sunday, when a driver managed to fend off terrorists in the southern Hevron Hills. It may have started out as a carjacking, "but we have seen numerous times how these carjackings turn into kidnappings. The man who shot the terrorists deserves a great deal of praise," Lieberman said.
The kidnapping attempt took place Sunday morning, when three Arabs hurled a blunt object at a 52-year-old trucker, a resident of the coastal city of Ashkelon. The driver shot back in self-defense, and then drove to the nearest checkpoint to contact IDF soldiers. A medic who treated the trucker told an interviewer on Channel 10 television news the would-be victim had sustained bruises to his back and hands, and appeared to have been struck in the chest with a blunt object.
Lieberman was echoing comments made Sunday by former Israel Security Agency (Shin Bet) chief Avi Dichter, who is now a Kadima Knesset member, after the event. Speaking to Army Radio, Dichter labeled the incident a terror attack. "Carjacking can easily lead to kidnapping," he said. "We must use our intelligence apparatus to identify these car thieves and bring them to justice."
At the press conference, Lieberman also praised the new policy of repatriating illegal African immigrants to their homelands. "I have never seen so much public discussion about this issue," Lieberman said, crediting his Ministry as being the only one taking substantial steps to solve the problem. "It is out negotiations with South Sudan, done via the Foreign Ministry, that led to the repatriation of their citizens. All the discussions in the media on this matter are damaging efforts to return other illegal aliens to their home countries," Lieberman said.