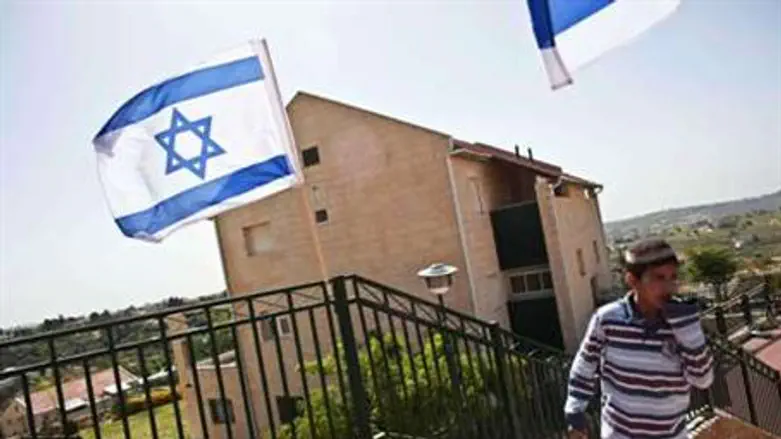 A boy walks near Israeli flags in Ulpana
Reuters
The office of Prime Minister Binyamin Netanyahu claims discussions with Givat Ulpana residents on a court-ordered expulsion are at a "standstill," but they told Arutz Sheva no such discussions are taking place.
A court ruling has ordered the expulsion of 33 families from their homes in the Ulpana neighborhood of Beit El by the end of the month, following the justices accepting a Peace Now petition that the purchase of the land for the homes from a Palestinian Authority Arab was not legal.
The government wants a "quiet" expulsion without violence.
The Yisrael HaYom newspaper reported Sunday that talks with the residents are at a dead-end, but residents told Arutz Sheva that the office of the Prime Minister has not called them with answers concerning compensation and Prime Minister Netanyahu's promise to build 300 more residential units in Beit El as well as 551 homes elsewhere.  
"Discussions are continuing, but there is no advancement or agreement with the residents," according to the government.
The 33 families have been promised that their homes will be removed as is and reestablished in another part of Beit El.
The government also has announced the formation of a new ministerial committee to take over responsibility on housing policies in Judea and Samaria. The Cabinet is to meet on Sunday to approve the make-up of the committee, which is scheduled to include a wide if not unwieldy political spectrum.
The Prime Minister will head the committee, which is to include Defense Minister Ehud Barak, who until now has been the lone authority to authorize and reject homes for Jews in Judea and Samaria.
Other members are to be Kadima leader Shaul Mofaz, who has generally sided with Barak on Judea and Samaria, and nationalists Gideon Saar. Yuli Edelstein, Gilad Erdan, Foreign Minister Avigdor Lieberman and Interior Minister Eli Yishai (Shas). Another nominee on the committee is Benny Begin of the Likud, who has been a disappointment to nationalists by taking a compromising position on the development of Judea and Samaria.