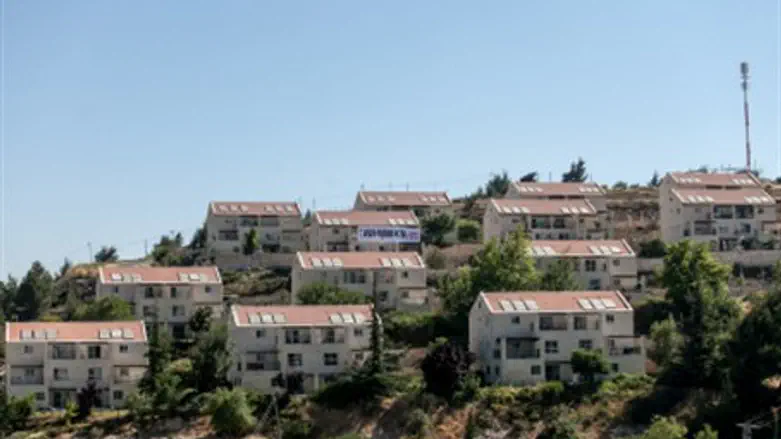 Givat HaUlpana
Israel news photo: Flash 90
In advance of what is expected to be a "hot" summer politically in Judea and Samaria, Rabbi Yuval Sherlow, head of the Petach Tikvah Hesder Yeshiva, has a message for counselors in B'nei Akiva groups, and for Israelis in general: Words can kill. Urging young people to enter into a struggle "to the death" in order to save the five buildings in the Ulpana neighborhood that the government plans to remove from their current location may come down to just that, and get someone killed.
The statement came as part of guide Rabbi Sherlow published on the Yeshiva's web site, outlining possible avenues of protest to express opposition to the government's plans for the neighborhood.
After the High Court rejected a plea by the government to extend the period for finding a legal solution to allow the residents of five buildings constructed on land claimed by Arab owners, and the rejection by the Knesset of the Regulation Law that would have allowed the residents to remain, Prime Minister Binyamin Netanyahu presented a plan to physically move the buildings to another location, in addition to building some 800 new apartments in Judea and Samaria – 300 of them in Beit El.
However, many right wing activists and politicians have expressed skepticism at the plan, and many believe that the residents of the Ulpana neighborhood who are to be evicted and sent to live in "caravillas" - essentially trailer homes – are going to end up remaining there for a long time. Residents of the neighborhood have said that they do not plan to leave voluntarily, and signs and flyers have appeared in Beit El and other places calling for angry protests to prevent the evictions and demolition/moving of the buildings.
Among those calls for protests have been several that have called for the Right to make the Ulpana issue a "red line," and to prevent the removal of the buildings "at any price," because of the precedent – the removal of permanent structures in an established town in Judea (Yehuda) and Samaria (Shomron), also known as "Yesha" – that it will set.
In his statement, Rabbi Sherlow said that protesting such actions was proper – but that great care must be taken to ensure that things do not get out of hand. "Words can cause people to kill," he wrote. "You cannot use a concept like 'stopping the evacuation at any price as a matter of life and death' and not expect that no violence will occur. You cannot talk about the need for an uncompromising struggle that cannot be lost, and then claim that the results are not your responsibility.
"I can no longer hide my concern over the way the struggle for these homes is likely to be conducted," Rabbi Sherlow wrote. Besides the violence that could take place between Jews, he added, "we are likely to lose whatever support these people had. When the people who do not accept violence abandon us, we will accuse them of being traitors and cowards – while we ignore and deny the real reason they have abandoned us."