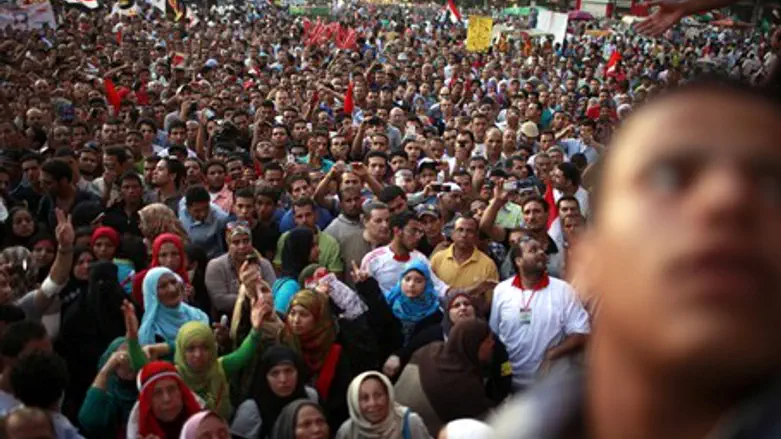 Protest in Cairo against Ahmed Shafiq
Reuters
Thousands of people demonstrated in Egypt on Friday, to demand that former President Hosni Mubarak's last Prime Minister, Ahmed Shafiq, be banned from a run-off presidential election.
AFP reported that the protesters also denounced verdicts in the trial of Mubarak and his security chiefs, amid reports that the ailing strongmen sentenced to life in prison for the deaths of protesters could be transferred from jail to military hospital.
In Cairo's Tahrir Square, the hub of nationwide protests that overthrow Mubarak last year, more than 5,000 protesters denounced Shafiq and the Mubarak verdicts as activists staged a mock trial of the ousted president on a wooden podium.
AFP reported that a man dressed in a judge's robe sentenced Mubarak and his cohorts to death, as the crowd chanted "God is greatest!"
"No to leftovers from the old regime," read one placard, in an allusion to Shafiq who faces the Muslim Brotherhood's candidate Mohammed Mursi in next week's run-off election.
Smaller protests were held in Alexandria on the Mediterranean coast and several other cities, AFP reported.
Meanwhile, Shafiq pledged he would uphold freedoms in a press conference.
"Public squares will be free and secure for expression," he said. "I promise you, no youth will be arrested for political activities."
Earlier this week, Shafiq hit hard at the Muslim Brotherhood on Sunday, warning that an Islamist victory will lead to terrorizing Christians and accusing the Brotherhood of trying to make "Palestine" the central issue for Egyptians.
In an unusually sharp attack, Shafiq accused the Brotherhood of acting as if "Palestine is the capital of Egypt." He said that Egyptians face several domestic issues that should not be overshadowed by the status of the Palestinian Authority, whose Hamas faction was founded by the Brotherhood.
"Don't let the Muslim Brotherhood control Egypt and take it to the dark ages," Shafiq declared. "I represent a secular state... the Brotherhood represents a sectarian state. I represent progress and light, they represent backwardness and darkness."
Shafiq has said that he would be ready to visit Israel, if elected, "provided it gives something to show it has good intentions."
The Muslim Brotherhood, which also clinched the majority in recent parliamentary elections, has threatened to cancel the peace treaty with Israel by putting the issue up for a referendum and letting Egyptians decide.
(Arutz Sheva's North American Desk is keeping you updated until the start of Shabbat in New York. The time posted automatically on all Arutz Sheva articles, however, is Israeli time.)