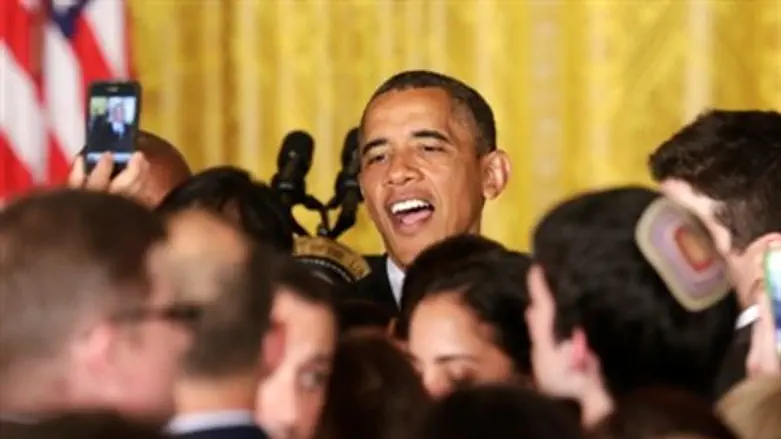 Obama greets Jews at White House
Reuters
Republican de facto presidential candidate Mitt Romney is leading President Barack Obama in the polls by a new high of four percent as the president tries to win back sagging support from Jews. Romney has sewn up the nomination and is scheduled to be officially nominated at the GOP's summer convention.
The latest daily Presidential Tracking Poll for Saturday by Rasmussen gives 48 percent of the vote to Romney, 44 percent to Obama, 4 percent to other candidates and the rest undecided. The daily Gallup Poll rates the two contenders at a virtual dead-heat, but the poll by Rasmussen, considered by some to be skewed in favor of Republicans, is not being ignored by Obama's campaign advisors.
Romney's four-point lead is a dramatic reversal of Obama's three-point edge two weeks ago and may reflect Friday's dismal report on employment, which sank the stock market and set off fears of a new recession following the continuing sagas of the European debt crisis.
"The underlying reality is that Team Obama has a difficult hand to play. The economy matters more than campaign tactics, and the indicators at the moment are mixed at best," noted Scott Rasmussen's weekly newspaper column.
Conservative political analysts flatly stated that  Obama is "fooling himself" with a campaign that is making excuses for shortfalls in fundraising. "A lot of people like the way Obama has governed less than they liked the idea of Obama governing," Michael Barone wrote last week..
One large source of money and votes is the Jewish community, which no longer sees the president as the "knight in shining armor". Arutz Sheva reported last week that  new poll shows President Obama with only 59 percent of the Jewish vote, compared with 27 percent for Romney. If the undecided vote were to split down the middle, the margin would be 68-32 percent, a far cry from Obama's 78 percent Jewish backing in 2008.
Support for Romney by 32 percent the Jewish community could be a clincher, according to Tevi Troy, one of Romney's senior campaign advisors on Jewish and Israel issues. A Jewish Republican, he also is former deputy secretary of the U.S. Department of Health and Human Services under former President George W. Bush.
"If a Republican candidate gets in the 30s, they're almost certain to win an election. If they get under the 20s, they're almost certain to lose," he was quoted as saying by the European Jewish Press.
"There's this 28 percent spread, which I like to think about in terms of its Hebrew gematria (numerology), which is koach, meaning strength," he continued. "This 28 percent shows the disproportionate strength of the Jewish vote given its relative numbers."
Although the economy is the number one issue on the minds of voters, President Obama is making efforts to win back Jewish voters who feel he turned his back on Israel by snubbing Prime Minister Binyamin Netanyahu last year and by his solid backing for a Palestinian Authority state based on the Temporary Armistice Lines of 1949 that were wiped out by the Six-Day War in 1967, with "land swaps."
Obama's strongest Jewish backing is from the Reform and Conservative communities, whose leaders are generally for the "peace process" and who lean towards Israel's relinquishing sovereignty over parts of Jerusalem and over most or all of Judea and Samaria.
President Obama did his best to cajole Conservative Jews last Thursday at a White House reception to mark Jewish Heritage Month.
"We don't just celebrate all that American Jews have done for our country; we also look toward the future," he said. "And as we do, I know that [not only] those of you in this room, but folks all across this country will continue to help perfect our union; and for that, I am extraordinarily grateful."
The Jewish Telegraph Agency, whose editorial slant usually reflects a pluralistic view of Judaism, wrote that the president tossed out a paraphrased of a Talmudic statement that Jews are responsible for each other.