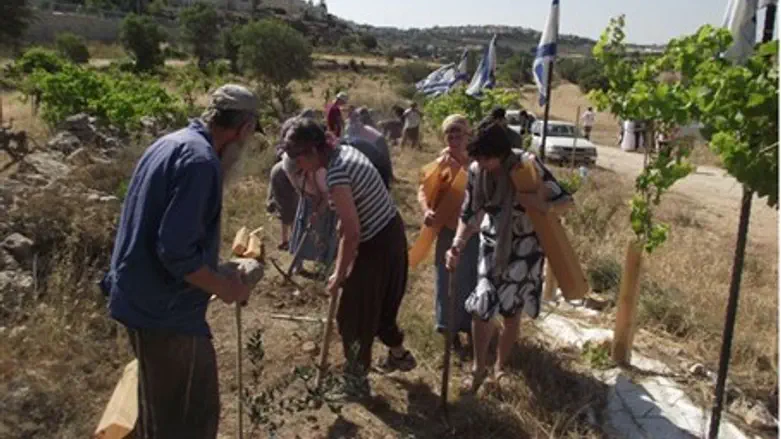 Netzer Plantings
Ruthie Wallfish
Women in Green on Thursday responded to plans by the IDF Civil Administration to uproot trees on state land in Netzer by planting dozens of new olive trees near Na'tiv Ha'A'vot, the Path of the Patriarchs. Netzer is located in Gush Etzion, opposite the city of Efrat, between Elazar and Alon Shvut .It is about fifteen minutes south of Jerusalem.
Police, Civil Administration and IDF personnel arrived well-after dozens of activists had planted the trees, during a lesson on the weekly Torah portion by Ruthie Wallfish, a well known anglo immigrant Tanach teacher who lives in the nearby mixed secular-religious community of Tekoa.
Having arrived too late, the police only photographed the activists and vehicles at the planting site. When asked what brought them to Netzer, they answered "To check the atmosphere."
The activists told them that the atmosphere is a healthy Land of Israel atmosphere – and invited them to join them.
Even after the trees were planted people continued to arrive in their vehicles to identify with the struggle to protect state lands from the encroachment by local Arab farmers.
Women in Green and their spiritual advisor – Gush Etzion's regional rabbi Gideon Perl – also issued a statement, saying, "We will continue to plant  and do anything else required in order to preserve our lands. The Land of Israel is acquired through devotion, persistence, and dedication."
"To all the planters – the truly faithful to the land, in Netzer and in every single site in the Land. He who does not know to fight for his homeland, is undeserving of it.
"History will judge the warped and heartless that are capable of destroying  Jewish homes and uproot that which has been planted and are willing to allow the Arab enemy to take over the lands of our homeland.
"Be strong and courageous, for the Land of Israel belongs to the People of Israel and we are merely inheriting that which is ours," they added.
The Civil Administration announced its intention to uproot hundreds of trees planted by Jewish activists at Netzer prior to the Shavuot holiday.
The plantings are intended to ensure Arab farmers from Palestinian Authority enclaves do not encroach onto lands owned by the State of Israel.
"We have gone so far as to sign a legal waiver saying we make no claim to the land and only make these plantings to preserve the land for the state," Women in Green co-founder Nadia Matar told Arutz Sheva.
The Civil Administration did not respond to Arutz Sheva's requests for an explanation for the decision to uproot the trees at Netzer.
Photos Courtesy of Ruthie Wallfish